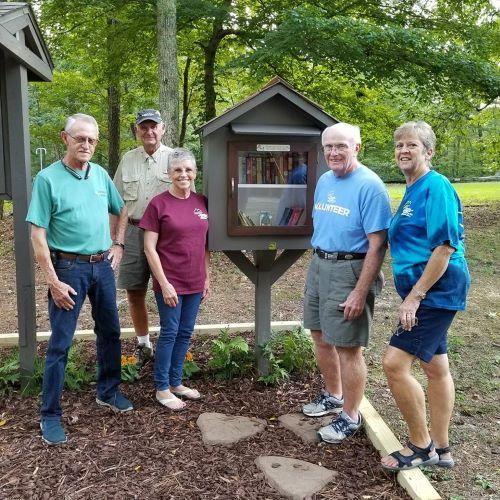 Our November spotlight is shining on Friends of Sloppy Floyd. This group of remarkable volunteers put their hearts and souls in to taking care of their park, James H. "Sloppy" Floyd State Park, in Summerville, Ga. They are a small but powerful group of volunteers.
    The Friends of Sloppy Floyd are a great support system for the park. They have gone above and beyond to make sure Sloppy Floyd State Park is in pristine condition and a fun place for visitors. In 2015 the Friends group received a grant from Friends of Georgia State Parks' Chapters In Action grant program to start what has become one of the most beautiful wildlife gardens that one has ever seen. The Friends chapter and volunteers have continued to build and maintain the garden over the last three years. Along with the wildlife garden, Friends of Sloppy Floyd was awarded a grant from Tillotson-Menlo Charitable Foundation to purchase four new swings for the park, which were installed on one of their monthly work days. Most recently, they added a registered, Little Free Library to the park campground.
    Their dedication to the park doesn't stop with beautification and new amenities. They also sponsor several events every year. From their Easter Egg Hunt to the car shows, the Twisted Ankle 5K and Outdoor Adventure Day, these volunteers love to entertain.
    This is a wonderful group of people who will go that extra mile whenever needed to make sure your experience at the park is a great one.. Friends of Sloppy Floyd would love for you to join them in their mission to support, preserve and enhance James H. "Sloppy" Floyd State Park. To learn more about this hardworking group of volunteers or to get involved, you can do so by visiting, liking, following and sharing their Facebook page. You can also sign up for their monthly mailing list through their Facebook page so you can stay on top of what's happening with Friends of Sloppy Floyd State Park.