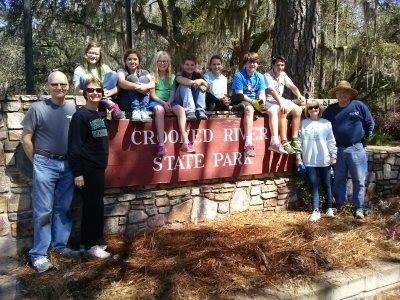 Friends of Crooked River State Park in St. Mary's, Georgia are a powerhouse group who spend much of their time doing projects to preserve and promote Crooked State Park. Averaging 2500 volunteer hours a year, they keep their park in immaculate condition with beautification projects (check out the entrance when you visit), keeping the river and shoreline cleaned and free of debris, and ensuring you and your family have a grand time at Crooked River with plenty of entertainment and events. Currently, they are hosting a fundraiser to purchase a new habitat for their resident alligator.
You can help and enjoy some entertainment at the same time. The Gator Git down will take place on Sunday, June 9, 2019. There will be a Beer Tasting Seminar from 3 pm to 4 pm. You can enjoy a picnic lunch of homemade gumbo, and lots of festivities throughout the day. Even get your photo taken with their resident gator. Check out the flyer below.
Click here to see the flyer with a description of the event. Scroll down to the bottom of this page to purchase tickets for the seminar as well as a quart of gumbo. If you can't make it to the seminar you can purchase just the gumbo. You can also donate to the cause if you are unable to make it to the park that day, by click here.