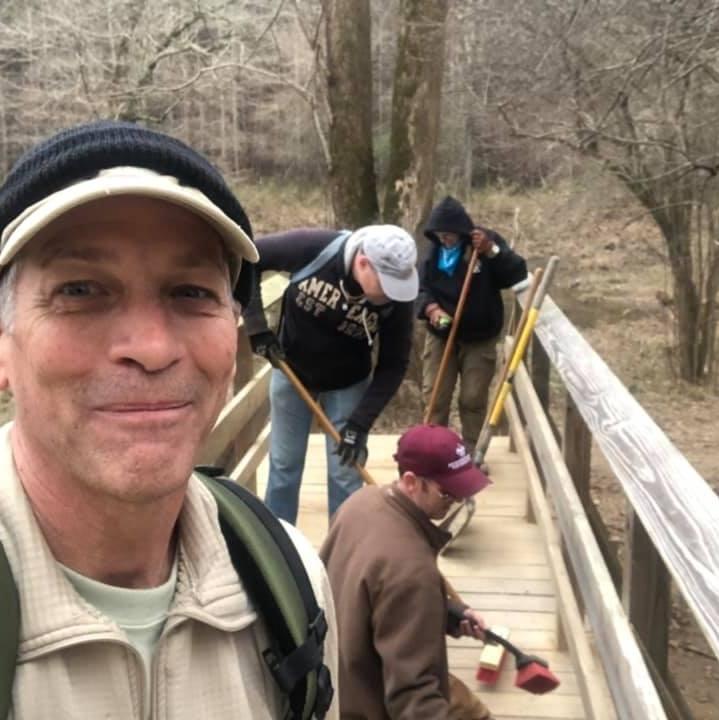 Phil LaRue, Steve St. Laurent, Cheryl Reed, and Jan Pierce. Who are these folks? They are the dedicated group, officers, of Friends of Chattahoochee Bend State Park. These folks, along with a group of core volunteers, the "Bend Friends," as they are often called, are a group of volunteers who build trails, clean up the Chattahoochee, and encourage getting unplugged and outdoors. 
Chattahoochee Bend State Park is one of the largest parks in Georgia and has five miles of river frontage on the Chattahoochee River, which the Friends chapter spends many hours maintaining. Just recently, the Friends chapter spend some time opening up the view of the river at the tower on the Riverside Trail. Ever attended the Friends of Chattahoochee Bend State Park Rivervest Celebration in Newnan, Ga? Proceeds from the Riverfest go back into the park. The most recent festival, the funds were allocated archery and mountain bike trails.
Friends of Chattahoochee Bend is a wonderful, dedicated, hardworking group with a heartfelt passion for their park. If you are looking to get involved with a local Friends of the park chapter, Friends of Chattahoochee Bend State Park will be a great place to start. Follow them on Facebook to keep up with their happenings, goings on and park events, through out the year. If you would like to be added to their volunteer mailing list, just enter your information in the green box. 
Don't forget about Your State Parks Day on Saturday, September 28, 2019. Friends of Chattahoochee Bend will have plenty of volunteer opportunities.