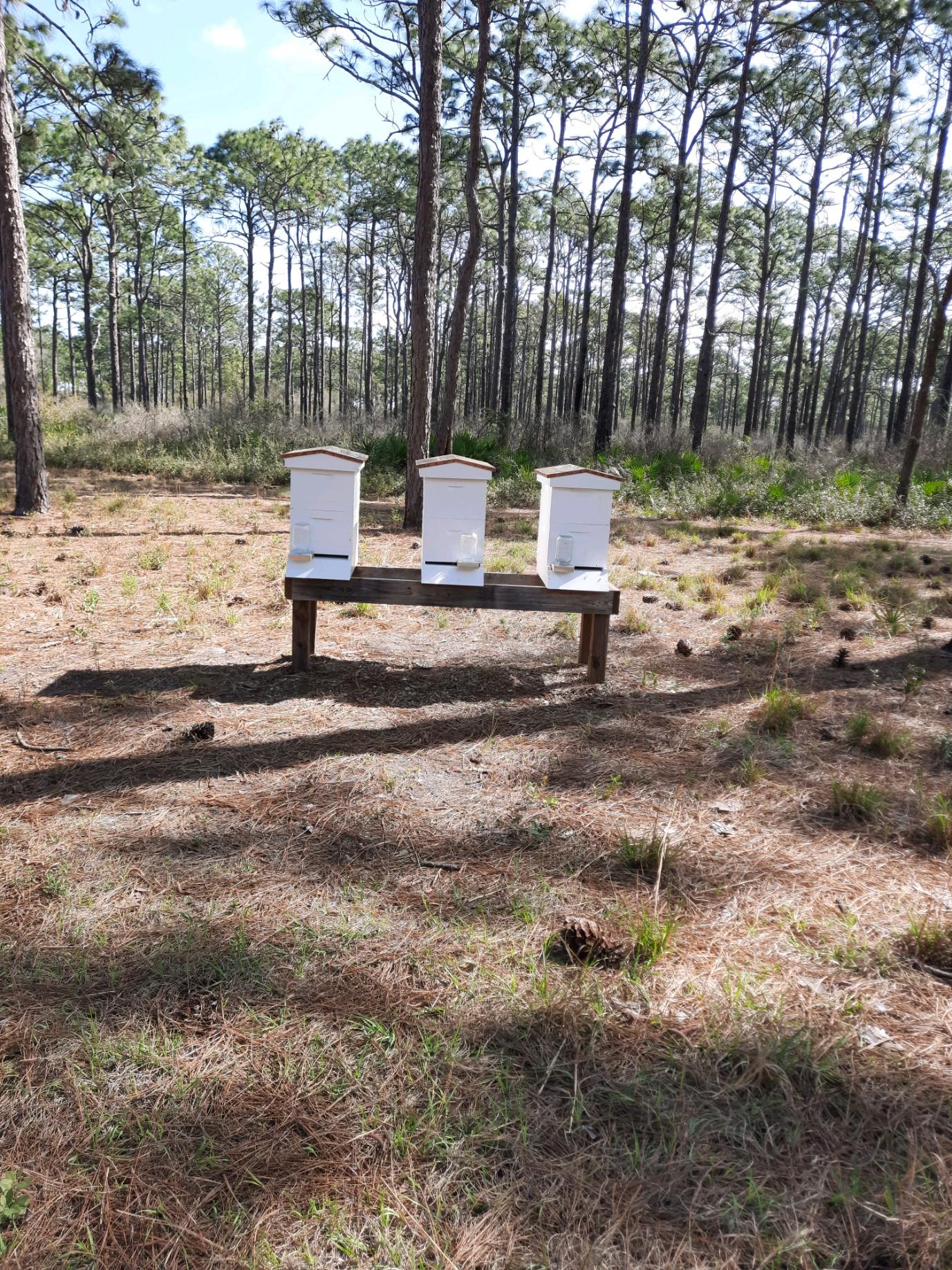 When a Friends member heard that honey bee hives were coming to Crooked River State Park in coastal St Marys, she suggested to Park Ranger, Tracy Worsham, that a one-acre mowed field be converted into a meadow of local native wildflowers and grasses. The new habitat would provide nectar, pollen, native seeds, forage and shelter to honeybees, native bees, bumblebees, wasps, flies, butterflies, birds, gopher tortoises, and other wildlife that live in the park. Her idea was well received. Thus began a collaboration between Friends of Crooked River State Park, where both Elizabeth King and Gail Farley are members, and the park. 
The park called it the "Pollinator Restoration Project." Friends of CRSP were given the responsibility to plan and implement the project. Gail Farley volunteered to lead the effort. Step one was to stop mowing the one-acre field so that existing vegetation could grow up. By Fall 2019, little bluestem grass, Schizachyrium scoparium, had emerged as the dominant flora. Shortleaf blazing star, Liatris tenuifolia, appeared and grew in in drifts. The best surprise was clumps of wiregrass, Aristida stricta, that surfaced once mowing stopped. We collected seeds of little bluestem and Liatris. Gopher tortoise burrows and wiregrass clumps were tagged so they would not get bush hogged.
We decided to tackle just one-third of the site in 2019. Once the site was bush hogged, volunteers removed as much of the existing vegetation as possible. Our goal was a cleared site that would offer the best native seed to soil contact. While not ideal, we chose to have the park use their tractor to disc and harrow the site. Our volunteers then spent many hours manually raking and removing plant debris from the sandy soil. The hills and valleys created by the tractor's work had to be smoothed to a flat soil surface. Before seeding, a mulched trail was created to weave its way through the site. We then seeded the bed with more than three dozen species of local ecotype native wildflowers and grasses, most being purchased from Florida Wildflowers Growers Association. We didn't have the luxury of collecting desirable seeds earlier. The bed was then rolled to press the seed into the soil. Finally, we spread a thin layer of longleaf pine straw to help keep seeds and moisture in place. With the seeds put to bed, we then walked away and hoped for the best. We knew that many of the seeds required rain and cold temperatures to germinate. And some seeds take 2-3 years for the seed coat to wear down enough for roots to grow. The site is not irrigated, relying exclusively on natural rain. When we say, "Hope it rains soon," we mean it! Plans for 2020 include removing nonnative species from another one-third of the area through solarization this summer, then during State Parks Day, rake out the area and prepare for seeding. We will need volunteers! Please join us on Saturday, September 26, for Your State Parks Day at the Pollinator Restoration Area.