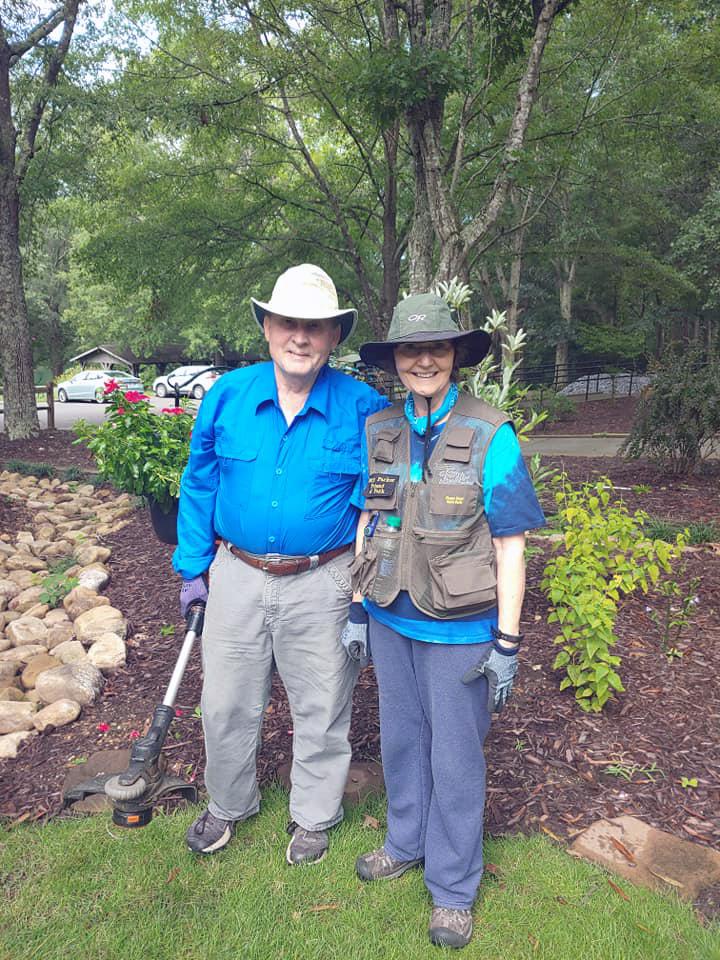 Jim and Mary Parker are both essential to the Friends of James H. Floyd State Park. Their "worker bees." leadership shows through in planning, organizing, and supporting any event or project that the Friends take on. One word comes to mind when thinking about Jim and Mary Parker: service. Time and again, they sacrifice hours to the park without expecting anything in return and without complaint. Jim and Mary are shining examples of what a Friend's volunteer should be. Service and leadership have been life-long endeavors of Jim and Mary Parker. Although Jim and Mary now reside in Chattanooga, Tennessee, they still make it to the park regularly to volunteer.
Mary contributes 300 plus hours a year to the park. One area that Mary shines in is the wildlife garden area in front of the park's visitor center. It has been transformed from an unsightly eyesore to a beautiful garden for all of our guests to enjoy. Mary has been at the forefront of this project since its inception. Her knowledge of plants and willingness to share it with others has made this project run smoothly. Additionally, Mary is currently enrolled in the Master Gardeners program and shares what she learns with fellow volunteers.
Knowing the dedication Mary gives to the park, one of her neighbors learned of a Pay-It-Forward program sponsored by Channel 9 News in Chattanooga, Tennessee, which rewards volunteers in their viewing area. This wonderful neighbor nominated Mary for the 300 plus hours she contributes to Sloppy Floyd each year. In mid-May, Channel 9 News visited Sloppy Floyd State Park to honor Mary and reward her with $500 (See video here).What an honor! In turn, Mary Paid-It-Forward and donated the $500 to Friends of James H. "Sloppy" Floyd State Park to use for more projects at the park. 
Congratulations, Mary (and Jim), and thank you for all you do for Friends of Sloppy Floyd and Friends of Georgia State Parks. We appreciate every minute you give to the park!