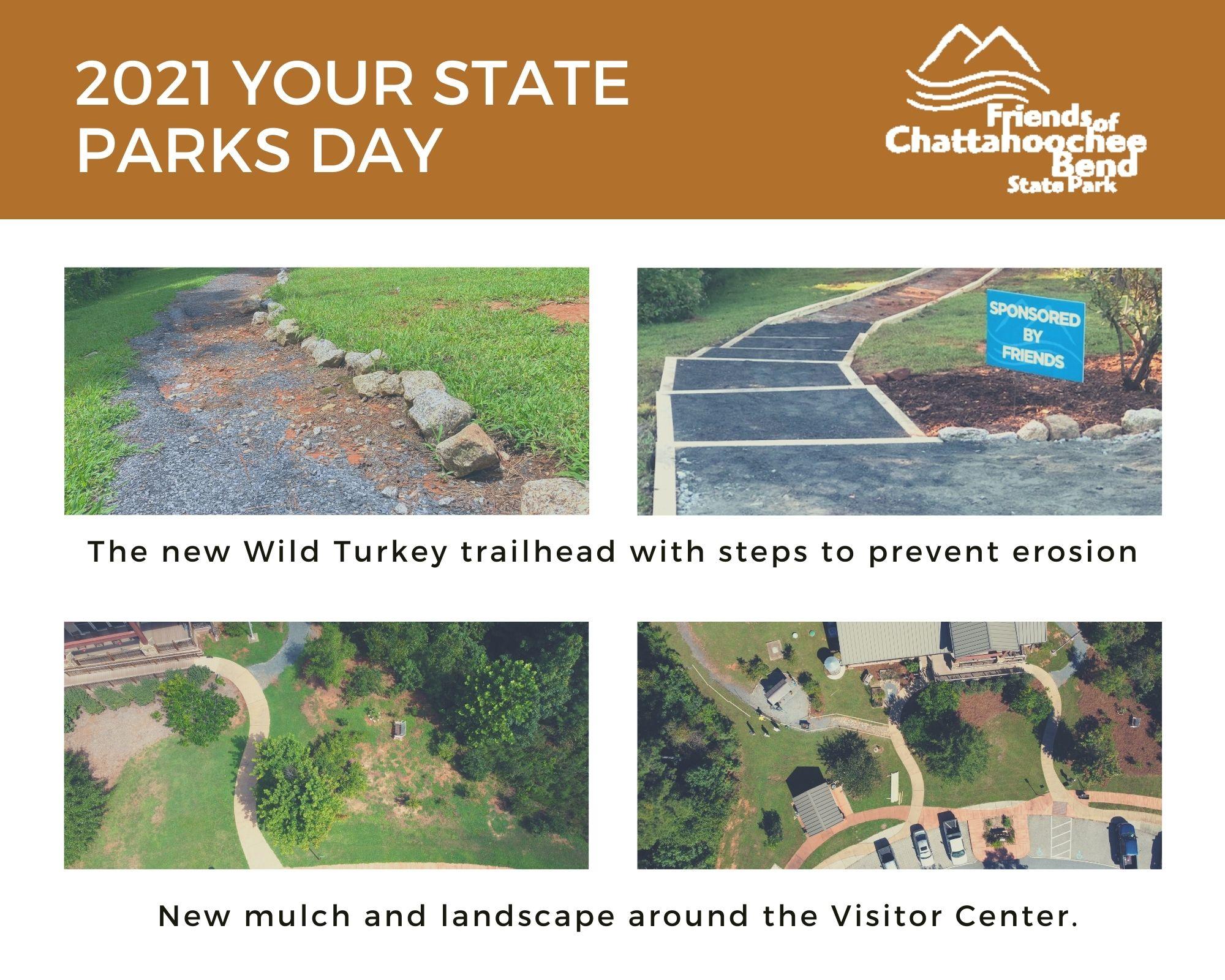 The day started cool and clear for our Your State Parks Day event at Chattahoochee Bend. The weather couldn't have been better for working outdoors. The plan was to move 30 yards of mulch to areas around the Visitor Center and rework the trailhead for the Wild Turkey Trail. We had three volunteers who purchased 27, 4"x4" boards and rebar to use in the edging to prepare for the day. Wood was predrilled and rebar cut to use as anchors. Two loads of mulch were delivered earlier in the week, and volunteers used tractors to place mounds in areas that would need to be covered.
On Saturday, we had thirteen volunteers who worked in two teams, one doing landscaping and one doing the trail rework.  Most of the landscape crew was wrapping up by noon, but the trail crew did a long day to get things done. The existing trail consisted of a 25' flagstone path, an information board pad, and an 80' trail going downhill with granite stone on one side and the original wood trim on the other side. The group installed wood edging along the flagstone path, the outer edge of the information pad area, and along both sides of the path leading to the trail post. Along the 80' path, steps were installed to help address erosion. The granite rocks were used to edge two sides of the information pad.
All in all, we logged 137.5 volunteer hours to complete the projects. It looks great and should last a long time. Thank you to everyone who came out to help these projects get completed.
If you are interested in volunteering with Friends of Chattahoochee Bend, follow us on Facebook for more volunteer workdays and events. Check out our Saturday, October 2 event - Rivers Alive 2021 with Friends of the Bend.