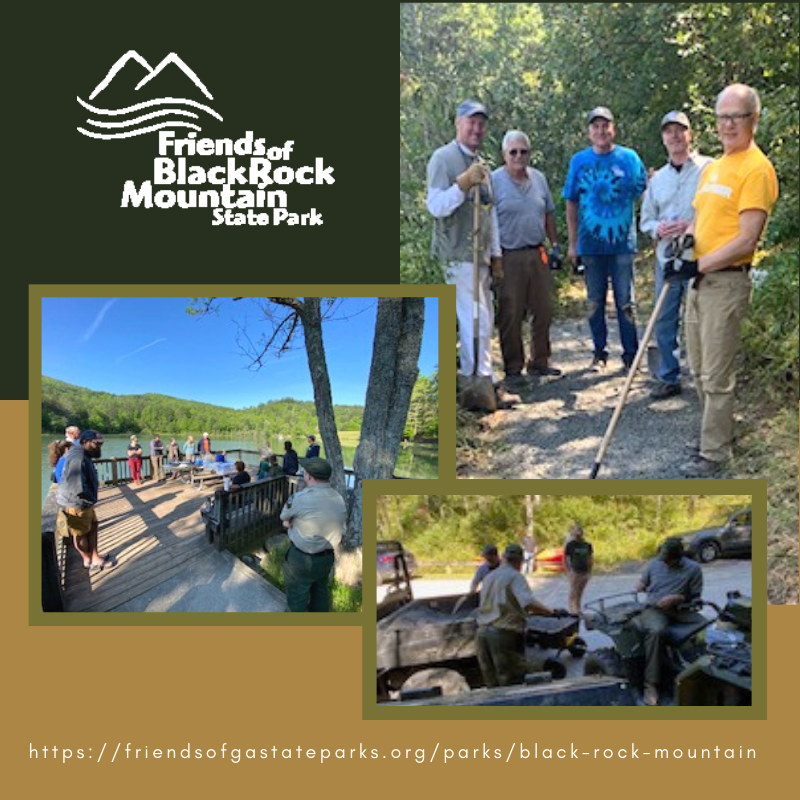 Black Rock Buddies is a dedicated group of volunteers who work with the park personnel to help maintain and improve the park for visitors. The Buddies spend hundreds of hours every year coordinating events and raising funds to help keep Black Rock Mountain one of North Georgia's premier state parks. 
This year, the Buddies have focused on park beautification by planting flowers and maintaining the landscape at the park entrance. They have begun similar work at the Visitor Center, the Mellinger Center, and the Pollinator Garden across from the Visitor Center. 
Perhaps the most challenging projects the Buddies have undertaken are continued efforts to help stop erosion around the Black Rock Mountain Lake Trail, a popular trail enjoyed by both locals and park visitors. The trail became even more popular during COVID when people sought fresh air and exercise to escape their isolation. Overuse of the trail, followed by flooding during an unusually wet winter/spring, took its toll on the trail, and some sections became virtually impassable. 
The Black Rock Buddies organized a series of Friends Volunteer days to begin work on the trail, beginning by tilling and digging up long sections of the trail and then laying a DuPont Ground Grid mesh product along those sections. The Buddies and park personnel then hauled wagonloads of gravel to the trail sections and spread the gravel over the mesh to provide more effective drainage and better ground stability. The ongoing efforts of the Buddies will allow Lake Trail enthusiasts to continue to enjoy the beauty and serenity of the lake.
The Black Rock Buddies is a (501(c)(3) and are primarily funded through membership purchases, so purchase a Friends membership the next time you visit Black Rock Mountain State Park. You may also make a tax-deductible donation to the Buddies by using donation boxes found in the park or online by clicking here. 
Black Rock Buddies' volunteer hours are subsidized by the Friends of Georgia State Parks & Historic Sites, and provide a major source of revenue, so consider becoming a Buddy and volunteering some time. If you're interested in finding out more about Black Rock Mountain State Park and Black Rock Buddies, follow them on Facebook to watch for events and workdays, or sign up for their newsletter by entering your information in the green box at the bottom of the previous page.