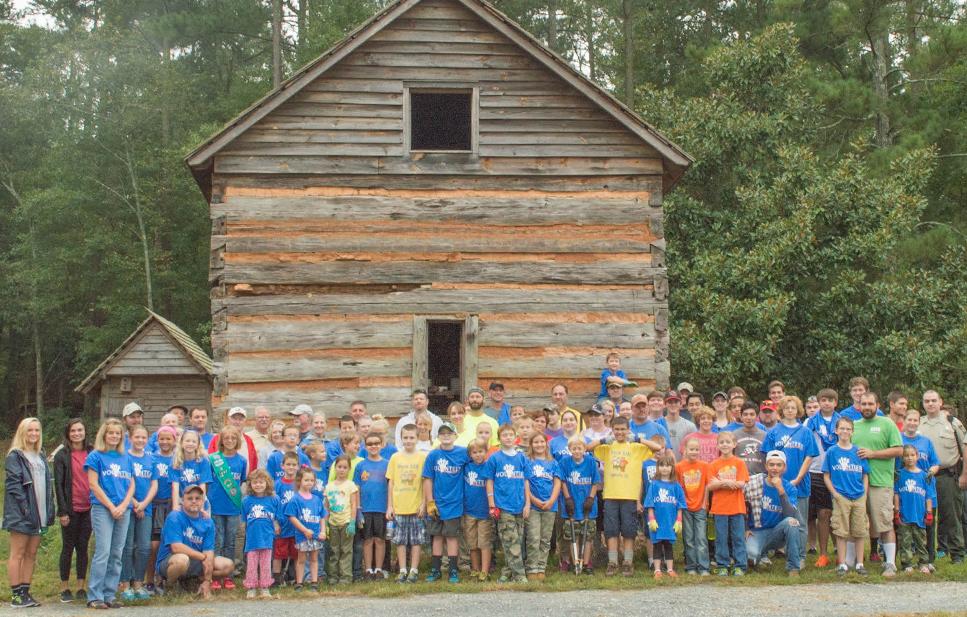 With over 50 chapters at Georgia's state parks and historic sites, Friends has accomplished hundreds of outstanding projects and programs throughout 2016. We have thousands of volunteers that work on accomplishing some of the greatest projects at the parks. Here are just a few of our favorite highlights.
Cloudland Canyon State Park has about 60 miles of hiking, biking and equestrian trails requiring constant attention from volunteer crews. From clearing fallen trees to repairing bridges, our jobs are never done. We love hiking and we love conserving the beauty of our parks. Throughout 2016, we designed and installed over 35 trailposts.
The trails weren't our only focus! Since 2012, Friends of Cloudland Canyon's Green Team has operated the park's recycling program. We created, built, and installed the recycling bins. Twice a week, our volunteers collect recycling and take countless pounds of recycling to the recycling center. Can you even begin to imagine how much recycling has been collected in the past 5 years?
Additionally, the Interpretive Center received a design "extreme make-over," we hosted the Governor and Mrs. Deal, we provided family-friendly programs, and hosted various volunteer projects throughout the year.
Moving south to A.H. Stephens State Park, we celebrated the opening of our twenty-stall equestrian barn and additional 8-mile equestrian trail thanks to the support of our project partners and donors. This project was truly a group effort between Friends, park staff and the community, and we couldn't be more proud!
One of our most forgotten chapters is our Friends of DNR Search and Rescue Team. This past year, we provided the Team with thousands of dollars in support for training and equipment used to keep all our park guests safe. From medical kits to GPS Units, the team is equipped and ready to respond at a moment's notice so that you and your loved ones are safe enjoying the outdoors. From ongoing trainings and certifications, there are constant needs and Friends is critical in responding. When we aren't focusing on providing supplies, you can often find our volunteers at the parks offering educational "safe and sound" programs for your family!
Eastward at Fort Yargo State Park, Friends has worked with the park staff to remodel part of the park's Nature Center into a wonderful venue designed for weddings, reunions, anniversary and other events. Additionally, we hosted four music concerts this summer.
Some of our most valuable volunteers are our youngest volunteers. One of the goals of Friends of Sloppy Floyd State Park has been to foster a connection to nature and a spirit of volunteerism with the younger generation. Our Junior Volunteers and Little Volunteers worked with adult Friends on various projects at the park.
Sloppy Floyd is known for its abundant bluebird population and our junior volunteers have taken the initiative of maintaining the nesting boxes. Regularly, they check the boxes, clean the boxes between broods, and keep records of the nesting activities.
Our Friends volunteers are also working to increase the monarch population by providing habitats and food for our pollinating friends.
At Smithgall Woods, our primary focus is expanding the park's accessibility and promoting the natural, healthy ecosystem of the park through gardening. Friends of Smithgall Woods completed Phase II of the Universal Access Trail between the Visitor Center and the main road of the park. Well over two thousands hours of volunteer time has been contributed to this park alone. We are incredibly proud of the 700 additional feet of ADA trail and have plans to install Braille signs and benches along the path as well.
Several of our volunteers serve as educational docents for school groups and public events while others spend time maintaining the trail system and gardens. Invasive species have been removed and replaced with native plants.
When Hurricane Matthew brought destruction upon our coastal parks, Friends didn't hesitate to respond with relieve efforts. Volunteers pulled together to assist. Our most notable efforts centered on providing food and water for the parks emergency relief crews.
Similarly, Red To Mountain State Park experienced disaster during 2016. A massive fire destroyed the Park Office and educational nature center. The Discovery Room was a multi-year volunteer project that was completely destroyed. Many felt the devastation. However, Friends didn't hesitate. We responded by not only working countless hours in helping clean up after the fire, but we provided portable bathrooms and a massive event tent for programs. We are incredibly pleased to share that not a single event had to be cancelled the rest of the year.
In the face of trial, Friends made the extraordinary! Thanks to all of our donors, volunteers, members and supporters, we accomplished some truly remarkable projects at the parks. Together, conservation and enhancement efforts thrived throughout Georgia. Thank you for your support throughout 2016 and we are looking forward to a remarkable 2017.