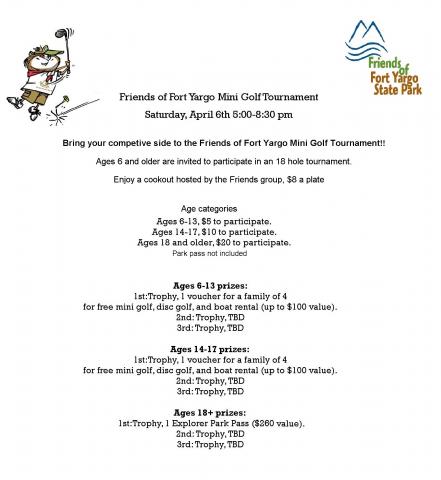 We are raising money to help build an ADA compliant Mini Golf Course at Fort Yargo State Park.
After spending an afternoon of family fun with local bands, artisans, and games at the Fort Yargo State Park Spring Festival, 12pm to 5pm
stop by the Mini Golf and bring your competitive side to the Friends of Fort Yargo Mini Golf Tournament!!
Ages 6 and older are invited to participate in an 18 hole tournament 4pm to 8:30pm
$5 for ages 6 - 13, $10 for ages 14-17 and $20 for ages 18 and older.
Trophies and prizes for the top 3 in each age category.
Enjoy a cookout hosted by the Friends $8 a plate.
Park pass required
We hope to see some new and some familiar faces on April 6th!