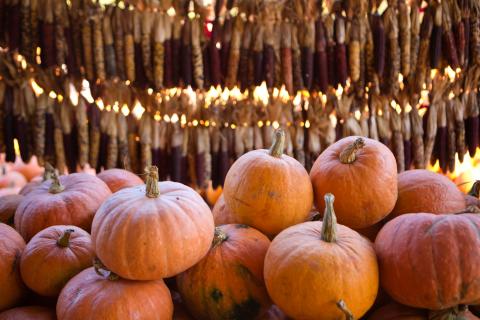 It's finally starting to get colder, the leaves are starting to turn, and Halloween is just around the corner. With the weather getting cooler and the trees starting to color, there is no better time to explore Georgia's beautiful state parks! And we have some excellent ways for you to experience the wonderful weather. From leaf watching to trick-or-treating, we've got it all!
Kicking things off with some color, check out Georgia's Leafwatch. Every October, Georgia's mountains turn to a vibrant blanket of red and gold as the leaves begin to change. Peak color is usually mid to late October at the highest elevations, moving into early November at lower elevations. The best parks to visit to see beautiful colors now are:
Amicalola Falls State Park & Lodge
Black Rock Mountain State Park
Cloudland Canyon State Park
F.D. Roosevelt State Park
Fort Mountain State Park
Moccasin Creek State Park
Smithgall Woods State Park
Tallulah Gorge State Park
Unicoi State Park & Lodge
Vogel State Park
If you get to visit any of these beautiful parks, make sure you take pictures and share them with us on social media using the #GALeafwatch!
Next up, Halloween! There are some spooktacular events planned for this month. To explore all the spooky Halloween events happening this month, click here. 
If you do get to check out any of these events, be sure to share your pictures with us on Facebook, Instagram and Twitter
Don't forget your Friends membership to save on your visit. Aren't a member yet? Click here to become one today! Want to help make even more projects like this possible? Consider donating here or planning to give here.