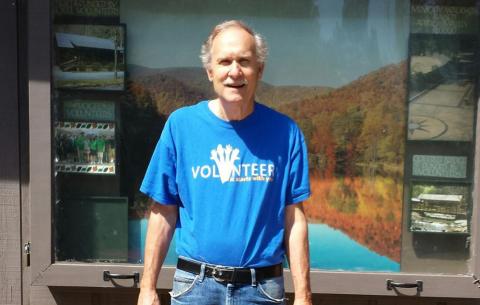 Friends volunteers aren't just free gardeners or extra trail hands. Friends volunteers are incredibly passionate and kind community leaders who pour their hearts into preserving and enhancing some of the most beautiful and well-loved natural and cultural treasures throughout Georgia.
Vogel State Park is one of Georgia's oldest state parks and well known for its gorgeous mountain vistas and historical roots. Our Friends chapter is one of the oldest-standing and most dedicated team of folks who have become dear friends to each other. In fact, this powerhouse group has become like family.
From building projects, to leading programming, to providing new special events, this group of volunteers truly makes an impact.  If there is a project to do, they're there! From clearing trash and debris to pulling out their power tools and construction supplies, they're constantly rolling up their sleeves and lacing their boots.
David Stancil was no exception! David's love for Vogel ran deep. His wife is a park staff member who works with the housekeeping department and he would often trek to the park with his wife so he could volunteer while she worked.  His warm smile and eagerness to help won the hearts of many and the park thrived because of him and his fellow Friends volunteers.
In June 2017, David passed away, leaving a legacy of love and dedication at Vogel. David was a military veteran who truly loved our country and had a deep sense of pride in Vogel. He left his heart at the park and even requested that he be buried in his well-loved Friends volunteer tee shirt.
David, you are appreciated beyond words and will be greatly missed by many. Vogel State Park is a better, more gorgeous natural haven because of you.