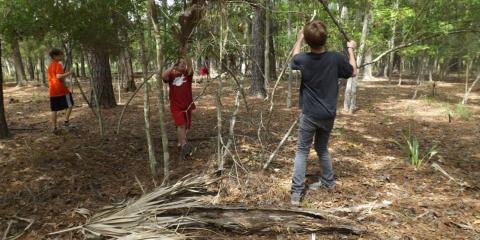 Fort McAllister State Historic Park's first major volunteer day of the year is coming Saturday, April 5th from 9:00am-3:00pm. The Civil War Trust Volunteer Day is a day devoted to cleaning up the park while, at the same time, preserving the cultural heritage and historical significance of the Fort.  Admission to the park and to the Fort for the day will be waived for all volunteers. And, in order to thank each of you for serving in such a meaningful way, lunch will be provided to all hard working volunteers! 
Please bring your own tools and supplies in order to maximize our efforts and leave a lasting impact at the park.  A very limited supply of park tools will be available.  
Contact the park office to RSVP for this event and for lunch by calling (912) 727-2339. The park's offices are open daily from 8:00am to 5:00pm
Thank you to all volunteers participating and your eagerness to make a difference! You are appreciated. 
Don't Forget!
Canoeing with the Stars and Art Among the Trees events are both featured this April.  Come for a moonlit canoe trip and learn how to create a natural work of art using supplies provided by Mother Nature.
Canoeing with the Stars will take place on Friday, April 18th, 7:00pm to 9:00pm.
Art Among the Trees will take place on Saturday, April 26th, 9:00am to 4:00pm.
Please consider downloading the attached event flyer (below) and sharing with your family, friends and coworkers.  We are excited to welcome new volunteers to the park who are ready to help make a difference.