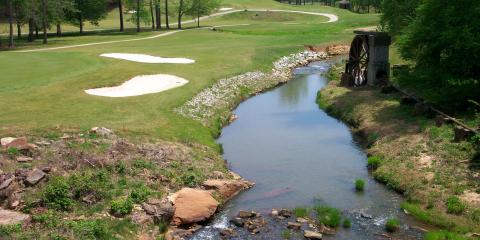 Hard Labor Creek State Park's golf course stands prominently in the minds of many golf enthusiasts, particularly the 14th hole. There, you will find a historic wooden wheel, mounted in the original 1880s cement foundation, which usually turns gently in front of the waterfall rushing under the CCC-built pedestrian bridge over Rocky Creek. Together, they create one of the most peaceful and picturesque views in the region.
Unfortunately, the water wheel stopped turning in 2012. The bearings were shot and it wobbled badly, and the economic conditions have dried up state park funds to repair it. 
To help restore this local icon, the park's Friends volunteer are hosting a "Save the Water Wheel" Golf Tournament on Friday, April 25 to raise funds for repairs, which will cost about $10,000. To make the event possible, Friends is offering four sponsorship options for your consideration:
Platinum sponsor: Includes tournament entry for 4 adults; business posted on all event signage, websites and promotional materials. Commitment: $550
*Gold sponsor: Includes tournament entry for 4 adults; business listed as Gold Sponsor on website and banner. Commitment: $350
*Cart sponsor: Includes business signage on 5 golf carts. Commitment: $150
*Hole sponsor: Includes business name displayed on signage at tee. Commitment:$125 
By sponsoring Friends of Hard Labor Creek through this Tournament, you (or your business) will contribute to preserving the legacy of our region while gaining exposure among many local residents and their families. 
The "Save the Water Wheel Golf Tournament" will take place Friday, April 25, 2014. If you would like to participate in the tournament, single registration is only $60. If you have a group of four, the cost is $240.
The schedule includes:
11:00 am Check-In Includes: Golf fee, Cart, Range Balls, Light Snack, Swag bag, Parking and Dinner after Tournament
12:00 pm Shotgun Start Format: Scramble
By participating, you have the opportunity to be eligible for some wonderful prizes. Categories include:
1st & 2nd Place Awards, Hole in One, Putting Contest, Longest Drive, Closest to Pin, Ball Drop, & Raffle Prizes.
If you would like to support these efforts but are not interested in participating or partnering in this tournament, you can still donate to the cause. Simply visit www.friendsofhardlaborcreeksp.com to make your donation. 
For more information and to confirm your sponsorship level, please contact Friends of Hard Labor by email at beejaysentell@gmail.com or by phone at 678-789-8641.  Please download and complete the Registration form (link is below) and return to Friends of Hard Labor Creek by April 21. Thank you for partnering with us to save the water wheel!