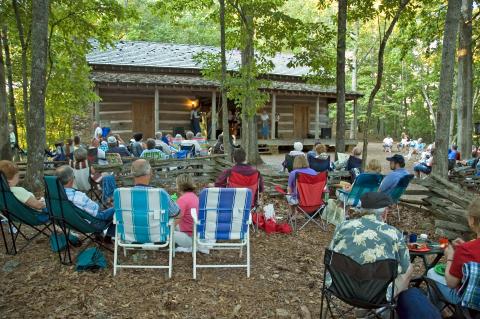 As many of you may already know, Red Top Mountain State Park's Park Office facility suffered a fire on Father's Day 2016. Though the damage was extensive, no one was injured in the fire and all animals made it out safely. With the generous support of Friends of Red Top Mountain State Park, we were able to continue with our 2016 summer event schedule with little changes, including the Summer Bluegrass Concert Series.
As we approach the summer of 2017, we are still without a Park Office facility and its amenities. During the previous Bluegrass Concert Series, this building held bathroom facilities and water fountains, and was the point of customer service for park guests. In addition, it served as our backup location for bands in case of inclement weather. Without this building, we are unable to offer the Summer Bluegrass Concert series in 2017.
Due to the current limitations of the area to support the needs of all our visitors as well as the bands required to conduct this unique program, the Red Top Mountain State Park Bluegrass Music Series will be postponed until further notice.
We hope to be able to offer this signature series once again in the near future. For the summer of 2017, we hope to offer a new and exciting program for families on Saturday nights. Stay tuned! You can stay up-to-date on our current park programs and events at GAStateParks.org/RedTopMountain
Thank you for your continued support of Red Top Mountain State Park!