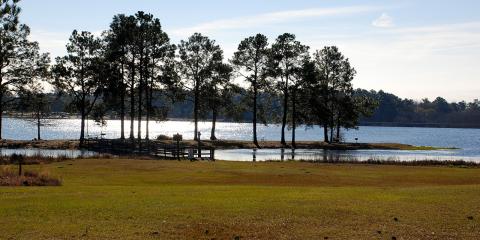 Beautification and preservation goals are at the forefront of Friends of Reed Bingham's commitment to service.  These dedicated volunteers regularly help their favorite park through maintenance and programming needs.   Some of their most recent accomplishments have allowed the park to better service their increased summer visitation and welcome families for extended stays. 
To help accommodate park guests, Friends recently built and installed mesh steel benches located on the county side of the lake near the handicapped picnic area.  These improvements provide convenience and opportunities for relaxation and enjoying the lake. 
The park's 375-acre lake is a popular spot for boaters, skiers, and anglers (fishing for bass, crappie, catfish and bream is particularly excellent). Keeping the lake maintained for its high demand is important for guests as well as the local ecology.  This is why Friends took time clearing unwanted weeds from the finishing and boating areas around the lake. Not only were they unsightly but they quickly obstructed access to the lake.
Many parks in southern Georgia offer a diversity of wildlife and wonderful opportunities for outdoor recreation. Reed Bingham State Park is no exception. The park's Nature Center allows visitors to learn about wildlife while taking a break from the summer heat. Unfortunately, the summer heat proved to be too much for the cooling system, so Friends welcomed the opportunity to purchase a new air conditioning unity for the Nature Center. Come and enjoy!
Events are held regularly at the park as well. The Valdosta Kennel Club has been sponsoring the Dog Agility Trials for the past two years at the park.  Dog handlers direct their dogs by voice commands through an obstacle course, competing against time and accuracy.  This three-day event not only draws a lot of participants for the agility trials, but also many spectators.  Friends graciously provided lunch for the event.
Friends of Reed Bingham's next project is to make extensive improvements to the miniature golf course. If you would like to become involved in this chapter's efforts to help preserve and protect the park, contact the park at 229-896-3551 and ask how to become a volunteer with their Friends group.  To make a donation to Friends to help support projects like these, Click Here.
Reed Bingham State Park is located in Adel, Georgia just six miles from I-75. It's convenient location and range of events welcome visitors from near and far for recreation and relaxation.