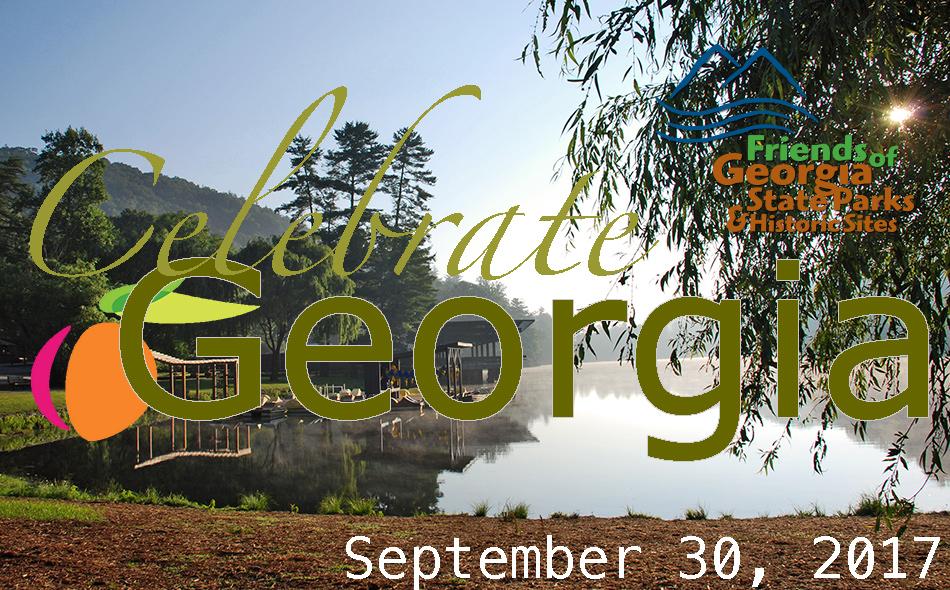 Our annual Your State Parks Day – Friends biggest volunteer day of the year – is Saturday September 30th.  Come help us Celebrate Georgia and all her beautiful historical and cultural beauty! Each of your parks and historic sites have carefully chosen special projects that are most needed to address various preservation and beautification efforts of these sites. We welcome you to join Friends volunteers as we partner with site staff as we Celebrate Georgia Saturday, September 30th!
**Due to the effects of Hurricane Irma, projects are subject to change as restoration efforts as a result of the storm may take precedence over these particular projects.
Amicalola Cleanup
9 AM to 12 PM
Amicalola Falls State Park and Lodge - Dawsonville, GA
Amicalola is one of the most beloved parks in our State. All that love takes a toll. Join us for a day of volunteering to clean up and improve your State Park. Wear closed-toed shoes and clothes that can get dirty. We will provide water, snacks, and t-shirts while supplies last. Volunteers will receive free parking. 706-265-1969.
River Clean Up -- Your State Parks Day
10 AM to 12 PM
Crooked River State Park - St. Marys, GA
Join our river cleanup in partnership with Rivers Alive and the Cooperative Extension Office. We will clean along the water way and remove trash from fishing areas. Please wear clothing that can get dirty. Bring water, a hat, sunscreen and bug spray. 912-882-5256.
Beach Sweep
Saturday, Sep 30, 2017 9 AM to 10:30 AM
Elijah Clark State Park - Lincolnton, GA
Come join us as we celebrate Your State Parks Day with a beach sweep, remove debris from the picnic area and restore the park to a healthy habitat with a trash pick-up. Drinks are provided. Please bring gloves and hand tools. 706-359-3458.
Preserving the Mounds
10 AM to 1 PM
Etowah Indian Mounds Historic Site - Cartersville, GA
Learn about invasive plants that you could see in your backyard; some of them may surprise you! Then, put your knowledge to the test while participating in a park clean-up project. Volunteers get in free for the day. 770-387-3747.
 
Erosion Prevention & Lake Cleanup
9 AM to 12 PM
Fort Mountain State Park - Chatsworth, GA
We will be giving the Lake Trail some tender loving care. You will be able to help with everything from picking up litter to installing new timbers to help prevent erosion. Free parking for volunteers. 706-422-1932.
Birdberry Trail Cleanup
9 AM to 11 AM
Fort Yargo State Park - Winder, GA
Volunteers will join us for a cleanup of Birdberry Trail. We will organize groups to pick up trash along the trail, gather and dispose of nature debris as well as clean trail heads and posts. All volunteers will receive a free daily park pass for the date of the event. We ask attendees bring hats, sunscreen, bug spray & wear closed toe shoes. 770-867-3489.
Your State Parks Day
9 AM to 1 PM
George L. Smith State Park - Twin City, GA
Come out and assist park staff with park clean up and beautification projects including trail clearing, litter pick up and landscaping. Wear comfortable shoes and work gloves. 478-763-2759.
Playground Fix-Up
11:30 AM to 1:30 PM
Gordonia-Alatamaha State Park - Reidsville, GA
For volunteers who want to have fun painting and fixing up our playground equipment for our young, and young at heart, guests. No reservations needed; report to the park office about 30 minutes after the Wiregrass Parade and stay for 1-2 hours before returning to the festival. We have free parking, coffee, and blueberry muffins for volunteers. 912-557-7744.
Mill Sweep
12 PM to 2 PM
Hamburg State Park - Mitchell, GA
After Friends of Hamburg volunteers grinds corn in the morning, there is still plenty of work to do! Come help with clean-up and preservation efforts at the historic mill and museum. This is a dusty environment, so please dress accordingly. Please bring water, gloves, and a broom. Volunteers receive free parking. 478-552-2393.
 
Pollinator Passion
9 AM to 11 AM
High Falls State Park - Jackson, GA
Come help pull weeds, pruning bushes, and laying mulch for our butterfly garden! Bring work gloves and we'll provide gardening tools. You may get dirty, so bring an extra set of clothes or shoes. Free parking/admission for volunteers. 478-994-3230.
Protecting Our Plantation
9 AM to 1 PM
Hofwyl-Broadfield Plantation Historic Site - Brunswick, GA
Celebrate Your State Parks Day by joining in one of our projects to clean up the grounds and plantation house. Please wear clothes that can get dirty and bring insect repellent. Free admission for volunteers. 912-264-7333.
Trail Cleanup
9 AM to 12 PM
Mistletoe State Park - Appling, GA
Come clean and help maintain trails for the fall season! Spring and summer bring much overgrowth and now is the time to restore the trails and enjoy a cool weather hike! Choose your own challenge, whether picking up litter on the Rock Dam or helping our pollinators in the garden behind the office. Meet at the Nature Center at 9:00 a.m. for instruction. Bring sturdy shoes, water, gloves and hand tools. 706-541-0321.
 
Hit the Trails!
9 AM to 11 AM
Moccasin Creek State Park - Clarkesville, GA
Meet at the Hemlock Falls Trailhead by 9 a.m for a morning of trail cleanup and restoring the primitive campsites. Bring water and be prepared to get dirty! 706-947-3194.
Bold and Beautiful
8 AM to 12 PM
Reed Bingham State Park - Adel, GA
Friends of Reed Bingham will be having beautification projects in different areas of the park. Free t-shirts and lunch for all who volunteer! Please visit or call the front office to sign-up as a volunteer. 229-894-3551.
Ruckersville Road Cleanup
9 AM to 11:30 AM
Richard B. Russell State Park - Elberton, GA
Join us as we clean up Ruckersville Road leading up the to park. We will be picking up trash, removing limbs and making the entrance to the park look lovely. Free parking for all those volunteering with this project. $5 parking. 706-213-2045.
Bridge and Sidewalk Refurbishing
10 AM to 3 PM
Roosevelt's Little White House Historic Site - Warm Springs, GA
The museum isn't the only thing that needs to be preserved! The grounds at this site need your help as we pressure wash and restore the sidewalks and entrance to the site. Equipment will be provided. You may get wet, bring an extra set of clothes or shoes. Free museum admission for volunteers. 706-655-5870.
Shore Restoration
9 AM to 12 PM
Seminole State Park - Donalsonville, GA
Join us at Seminole State Park and help wipe out invasive species and remove trash along the shoreline. Free parking for anyone assisting with park projects. 229-861-3137.
Invasive Species Removal
9 AM to 12 PM
Skidaway Island State Park - Savannah, GA
Help us to eliminate the Chinese Tallow Tree, an invasive species found in our park. Please register by Friday, September 29.Volunteers are asked to wear close-toed shoes and comfortable clothing. This event requires volunteers to be at least 16 years old. 912-598-2300.
 
Protecting our Precious Plants
9 AM to 12 PM
Smithgall Woods State Park - Helen, GA
Come celebrate YOUR state parks! We are very proud to be a safeguarding site for Torreyas and American Chestnuts.  Come spend the day with us as we weed and remove invasive species that are encroaching on these precious plants. Free admission for volunteers. 706-878-3087.
Unicoi Volunteer Day
10 AM to 4 PM
Unicoi State Park and Lodge - Helen, GA
Come cleanup trash off the trails, paint new trail blazes, re-do trail markers and do trail maintenance. All ages welcome. Clubs and groups such as youth groups, school groups and scouts are especially encouraged to join us! 706-878-2201 ext. 549.
Wolf Creek Cleanup
9 AM to 2 PM
Vogel State Park - Blairsville, GA
Help us restore beautiful Wolf Creek to its natural beauty! Wear study shoes and be ready to get dirty for this cleanup. Free parking for volunteers. 706-745-2628.
Passion for Gardens & Outdoor Classrooms
9 AM to 1 PM
Indian Springs State Park - Flovilla, GA
Join Friends of Indian Springs in expanding their outdoor classroom! Create a gorgous enviornment for young and old to celebrate hands-on learning and a passion for the outdoors. We'll also be installing benches in the area as well.  With your help, we'll have a fabuous time and be able to accomplish the entire project. Free tee shirts and admission for all volunteers! 
Trail Cleanup
10 AM to 2 PM
Wormsloe Historic Site - Savannah, GA
Come help with cleanup and restoration efforts along the Interpretive trail and the Battery Trail. There will be a limited supply of gloves and tools - bring your own if you have a favorite. 912-353-3023.
Multi-Project Volunteer Day!
9 AM to 1 PM
A.H. Stephens State Park - Crawfordville, GA 
You're certain to find a volunteer project that you'll love with Friends of A.H. Stephens State Park! We'll be cleaning trains, prepping for holiday and seasonal events, and beautification projects throughout the park. Bring bug spray, gloves and yard tools (limited supply of tools are provided). All ages are welcome and we'll have plenty of bottled water and snacks. Free admission for all volunteers. 706-456-2602
Garden for Good
10 AM to 3 PM
Chief Vann House Historic Site - Chatsworth, GA
Join us in clearning fallen limbs, trimming hedges, weeding, cutting down wilting plants, saving and labeling seeds, and hauling off the plant waste. Bring your own trowl and garden tools if you're able. Preserving places of historical significance, such as the Vann House, helps to strengthen our American heritage and teach our children about their past. Bring the whole family as all ages are welcome to volunteer!. Activities are outdoors and weather permitting. Admission is free for volunteers.
Outdoor Classroom Build
10 AM to 2 PM
Red Top Mountain State Park - Acworth, GA
Join Friends in the Outdoor Classroom! We'll be painting, weeding, gardening, and more. Bring gloves, water, and wear appropriate clothes. Parking is FREE for volunteers!
Preservation, Enhancements and Beatifications
10 AM to 1 PM; 12 PM to 4 PM
Cloudland Canyon State Park – Rising Fawn, GA
Friends of Cloudland Canyon have the entire day planned with many opportunities for you and your entire family. With typically over 100 volunteers participating, there is much opportunity for making new friends, fellowship and making a huge impact at the par! Join us in any of the following opportunities from 10am - 1pm:
· Spread Mulch in Yurt Village
· Clean and mulch Interpretative Center Grounds
· Weed and Mulch the Visitors' Center Grounds
· Entrance Gate Park Sign Weeding and Mulch
· Pressure Wash Concrete Picnic Tables
· Service Recycling Collection Cans
· A Bat and Bird House building project
· Making wooden lawn games
· Staining rockers and benches
· Decorating 10 rest stations
· Cleaning signs
· Cleaning culverts
· Back Country Trail Bridge Surface Improvement
Once we complete our projects, we'll celebrate with family-friendly activities from noon to 4pm with hayrides, fishing and disc golf! 
File
YSPD2017- print.pdf