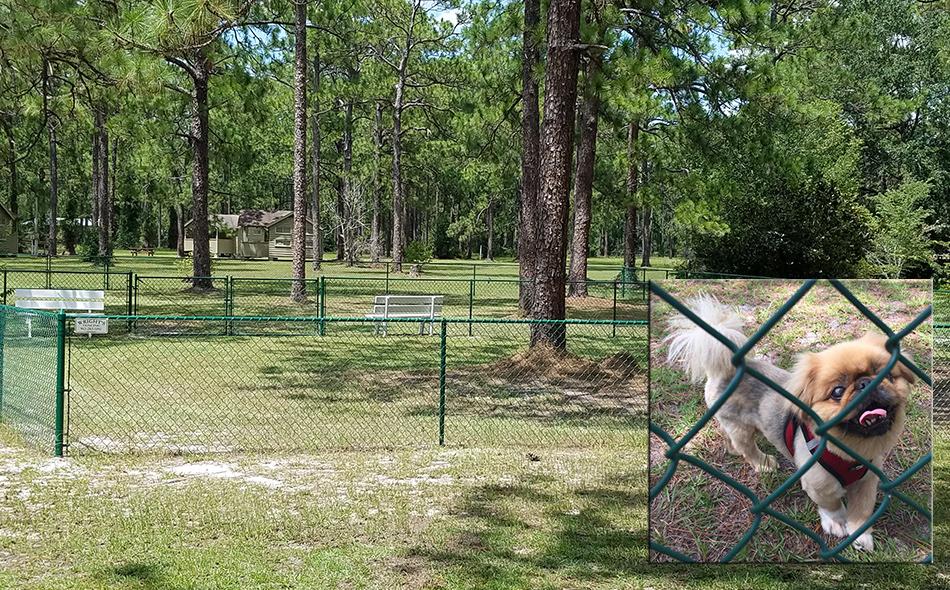 After many hours of fundraising, planning and installing, Friends of Laura Walker State Park completed the final stage of the park's first ever dog park! The process was long but they are very happy with the results and think that you and your furry friends will enjoy as well.
In the first stage, they worked with the site staff to choose an ideal location for the new dog park. They visited other dog parks across the state and networked with other folks who also did installations to learn from their experiences. From there, they plotted the land and measuring exactly what they wanted was far more involved then they imagined! Once they were able to install fencing, poles, and tension wire, they decided to shop locally and found a great guy who worked well with them on the project. The Friends volunteers even contacted an environmental engineer to sample the soil and water run-off, making this investment one that will last! 
After further feedback from the state employees, they made sure to include a double sided gate to segregate dogs of various sizes and included water sources as well. They also made further adjustments to the fencing choices but in the end, they produced a fabulous result! 
Finishing touches to the area included benches, doggie waste cans, and ADA compliant paved paths! 
By the end of the project, approximately 100 volunteer hours and $5,000 came together to make this dog park a reality! The community's response has been well-worth the painstaking efforts that the volunteers went through to make it happen. It has been incredibly well-received as 80% of the park's campers travel with their pets and the park has already seen a surge in dog park visitation in the short time that it has been open. Congratulations to Friends of Laura Walker and we hope that you come out and visit the park soon!