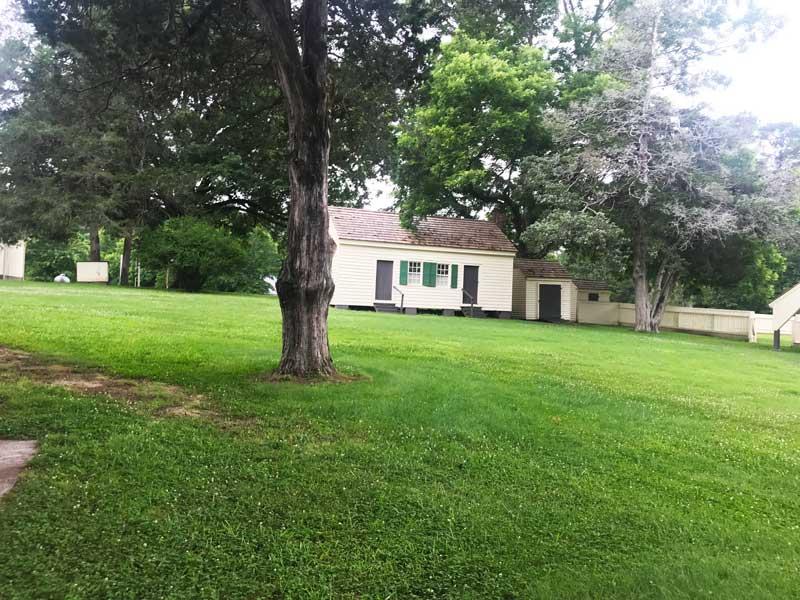 Need a break from your daily routine? Take a solo adventure to one of Georgia's State Parks or Historic Sites!
Is there really anything better to do by yourself than visit a museum? Located in Crawfordville Georgia, A.H. Stephens stands out as a beautifully preserved piece of history in an otherwise normal town. Walking up to the fully furnished 1875 home, take a look at the statue of Georgia's 50th Governor, Alexander Stephens. Do you notice anything? There's a finger missing! According to the assistant manager, the statue is somewhat of a local legend. Almost every family in Crawfordville has some story about what happened to the finger, some even claim to still have it though I was assured it is safely kept inside the museum.
Before you enter the museum, walk around the grounds if you're able to visit in May or June, be sure to savor the smell of the large Southern Magnolia trees on the front lawn.
Around the back of the lot is a fenced patch of grass. In the back corner of the patch is a grave for A.H. Stephen's best friend, Rio. You can also see several smaller buildings which make up the estate. Finally, check out the main house!
I could have spent hours in the house just looking at the floor! Without closely inspecting it, the floor looks just like tile but look closer. The wooden boards are hand painted to imitate red and black tile. Each room in the house has its own character and history. One of my favorite parts of the house is the art hanging on the walls. Several of the paintings were done by Alexander Stephens himself! Then there are the hair and wax sculptures which were macabre and wonderful. The upstairs bedrooms contain several examples of period decorating and each has its own story.
Inside the museum, I recommend taking as long as you can to absorb the information in front of you. As I am going through pictures I took for this article I'm noticing even more things I didn't see my first time through. Like with most museums flash photography is not allowed but be sure to take some non-flash photos!
If you do get to visit A.H. Stephens, be sure to share your pictures with us on Facebook, Instagram and Twitter
Admission to the A.H. Stephens museum and historic site is $5.00 and if you bring your Friends membership you can get 10% off! Not a member yet?  Click here to become a member today and get discounts at Georgia's beautiful State Parks and Historic Sites. For more details and hours check here.
Want to help make even more places like this possible? Consider donating here or planning to give here.
---
Your Guide to Solo Adventures in Georgia's state parks and historic sites
Hi!  I'm Sierra Kirkpatrick.  I absolutely love our parks and love visiting them alone and with friends.  Visiting alone can be a very different experience and I hope to provide you with tips and tricks from my travels to make the most of your visit.  Whether by yourself or with friends and family, you'll find something to enjoy and perhaps a few hidden spots you didn't know about.  Have a tip or a question?  Shoot me an email here: SoloAdventures@friendsofgastateparks.org
Happy adventuring!