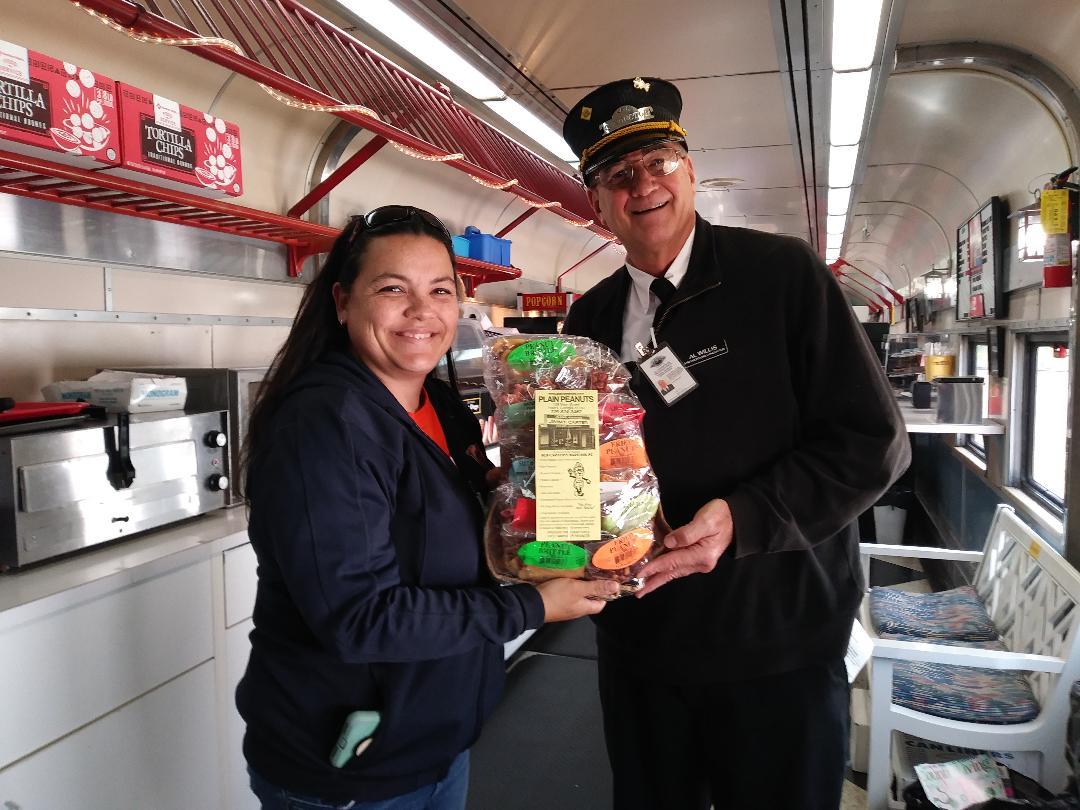 The Presidential Flyer Train Excursion traveled to Plains and Archery, boyhood farm of President Jimmy Carter on April 20th.
On board were 140 passengers, with 80 U.S. Air Force personal and their families from the Robins Readiness Office (Warner Robins AFB).
The Airman & Family Readiness Center (A&FRC) is the service organization and focal point for Air Force family matters. Serving all single and married active duty, DoD civilian personnel and their eligible family members, to include Guard and Reserve members while on active duty, other eligible uniformed members, military retirees and their eligible family members.
The group traveled on SAM Shortline's Georgia Veterans Coach.  This Coach is dedicated and decorated in honor of all branches of the Military.
This group had a wonderful surprise upon their arrival at Plains.  President Jimmy Carter was there to greet them at the Depot.  He spent time to talk with everyone and as always a group picture was taken.
We always want to take time to thanks our service men and woman for their service to our county and to their families for their sacrifice.
After the layover in Plains, the Presidential Flyer rolled on to Archery where the National Park Service had an Easter Egg Hunt for kids of all ages.
A raffle was held on the return trip to Georgia Veterans State Park Depot.  Ms. Nicole Jaeck of Kathleen, Ga. won a nice gift basket furnished by Mr. Bobby Salter of Plains Peanuts in Plains.
Several exciting Special events are scheduled for May.
On May 4th, SAM Shortline will travel to join St. Mark A.M.E. Church for their 16th Annual May Day Festival.  The train will arrived mid-day to join in with the Plait the Maypole activity.
On May 11th, the Historic SAM Shortline Railroad is celebrating our 6th annual "Touch-A-Train" event at the Georgia Veterans State Park Depot from 10 am to 4 pm. This is in conjunction with NATIONAL TRAIN DAY and the
This family-friendly event allows kids and adults to get up close and take photos of the SAM Shortline train cars and the Heart of Georgia Railroad locomotives. You can talk to the conductors as well as take a train ride over beautiful Lake Blackshear.
There will be many activities for kids: a bouncy house, Thomas the Tank Engine power wheels, putt-putt course, corn-hole games and face painting. Smokey the Bear and the Georgia State Park's Gopher mascot will be there to visit with all the kids.
On June 22nd, there is a Murder Mystery scheduled for the train. A mystery special guest will be in attendance.
Please check out SAM Shortline Website for details. https://samshortline.com/
Come and ride SAM.
Thanks,
Conductor Al