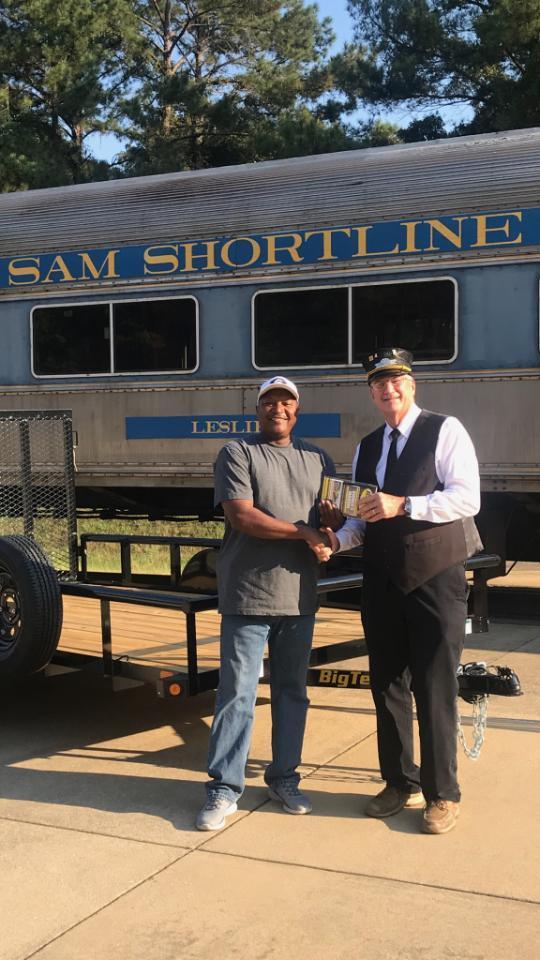 Friends of SAM Shortline Railroad delivers Trailer to Winner of Raffle
As a fundraising project, Friends of SAM Shortline Railroad raffled a utility trailer with the drawing being held On WSST television station on September 27th.
Several sponsors helped obtain the trailer: Big Tex Trailers, Colony Bank, The Law Firm of Lawson, Reid & Dean Law, Cordele MainStreet and Murray's Printing all of Cordele.
The raffle was conducted during the summer months with local citizens and train passengers supporting the project with approximately $2000.00 being raised. The funds raised will be used to help Friends of SAM Shortline RR to assist in special needs that the train operations require. 
Mr. Joshua Woodson of Cordele, Ga. was the lucky winner of the trailer.   He has been gracious to allow the SAM Shortline RR to use the trailer during Day out with Thomas coming during the month of October.
Several past projects include the purchase of a golf cart which is used at the Georgia Veterans Depot and assisting with the repair of an on-board generator which powers the passenger cars air conditioning and lighting systems.  One of the biggest events held by SAM Shortline is Day out with Thomas. The Friends group helps feed the army of volunteers who help over the 5 days of Thomas.
Thanks to all who participated in the raffle.
Come ride SAM!
Don't forget your Friends membership to save on your visit. Aren't a member yet? Click here to become one today! Want to help make even more projects like this possible? Consider donating here or planning to give here. You can also donate directly to Friends of SAM Shortline, here.