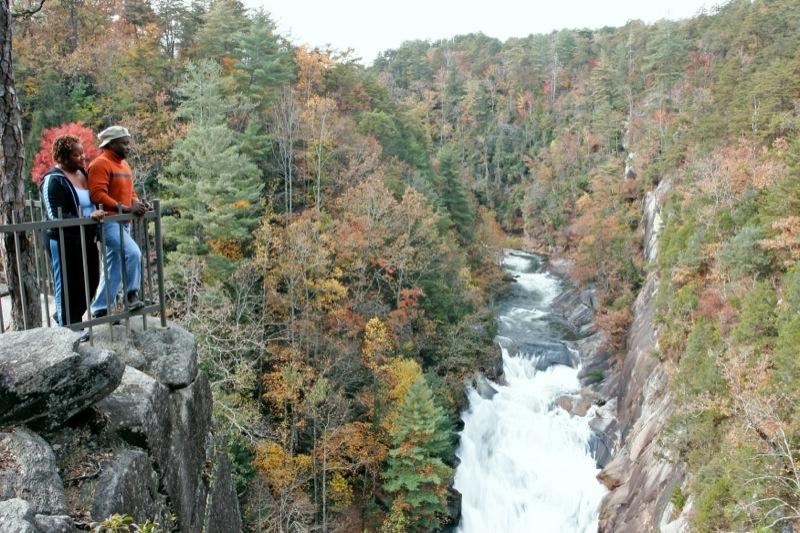 The existing trail was created to expand accessibility throughout the park, suitable for wheelchair and stroller access to some of the park's overlooks.  Recent weather, root growth, erosion, and wear have adversely caused hazardous sections of the trail making it more dangerous for handicapped access.  
Friends of Georgia State Parks & Historic Sites through their semi-annual Chapters in Action Program is providing more than $10,000 toward replacing Tallulah Gorge State Park's aged rubberized trail, which stretches from the park's Interpretive Center to the North Rim Trail. 
"The greatest attraction at the park is of course the gorge," says Bill Purvis, local chapter president at Tallulah Gorge State Park. "The ability for visitors using wheelchairs and strollers to get to the gorge is quite limited.  Replacing the rubberized trail will allow for a safer walk and greater accessibility." 
Statistically, the 8 county area surrounding Tallulah Gorge has a 50% greater disability population than the overall state of Georgia and are a significant portion of the park's guests.  Thanks to Friends funding and support, the existing trail will be removed and a new, rubberized trail will be installed. 
The Friends Chapters in Action program has generated more than $100,000 this year alone in projects, programs and support for parks and historic sites statewide.  The program is made possible by Friends members and local donors who contribute time, effort and money to the program.
Friends volunteers continue to fund raise in hopes of constructing a rest station near the Shortline Trail, renovate the one of the park's overlook shelter structures, and several other repair projects throughout the park.