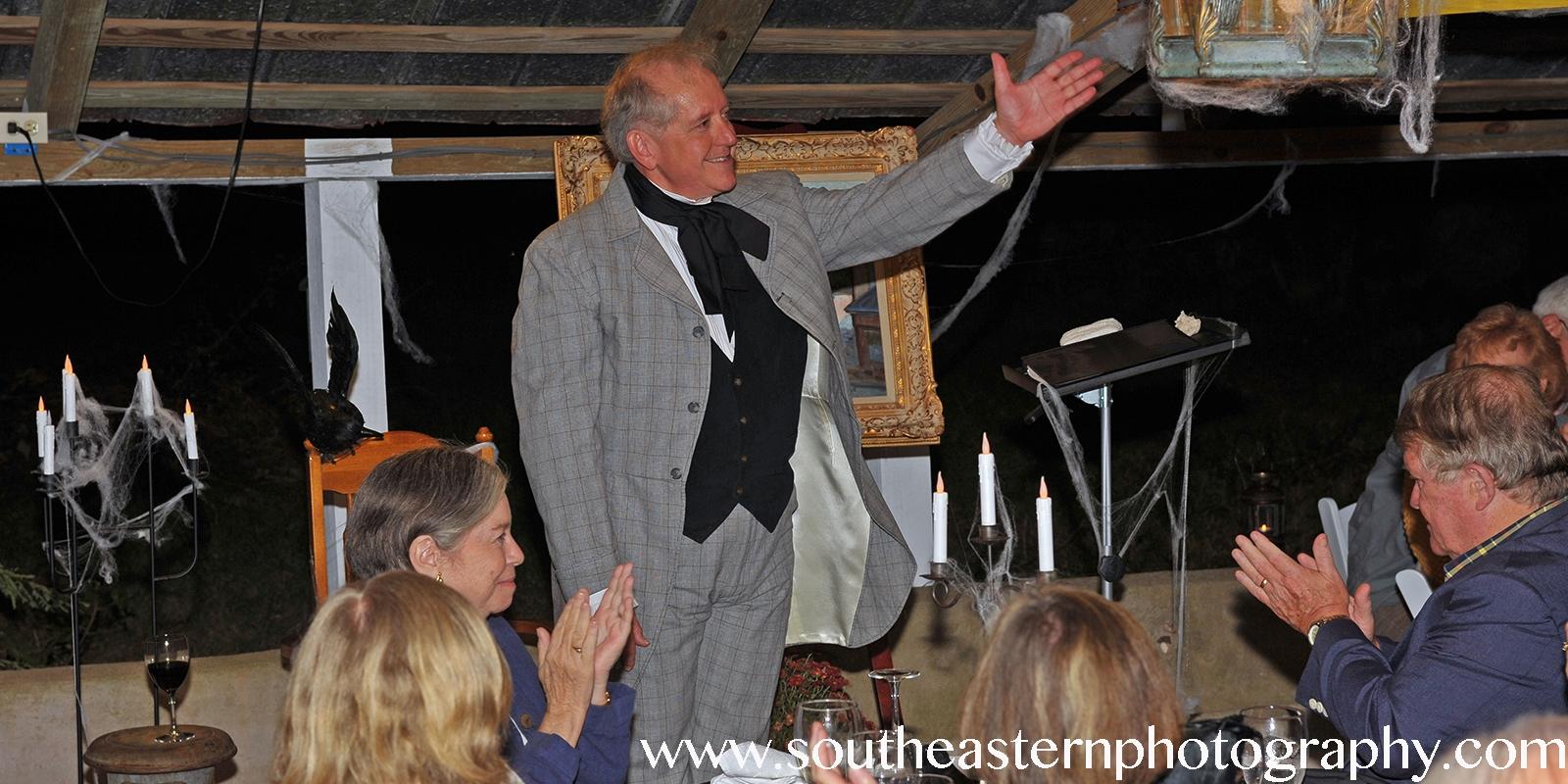 Friends volunteers at Hofwyl-Broadfield Plantation State Historic Site have a long history of perseverance and creativity when it comes to supporting their favorite site.  Years of hard work have brought incredible success from producing various programs to making sure Hofwyl-Broadfield remains open and available for visitors five days a week.  Celebrate with us in congratulating this chapter in their recent accomplishments!
One beautiful aspect about this chapter is how involved these Friends volunteers are at their site and in their local communities.  Friends collaborated with their community's Big Read project centered on works by Poe.  There is a wonderful collection of all of Poe's works in Hofwyl House, so Friends organized a "sit-down" dinner at the site's Dairy Barn and served a wonderful meal while a local entertainer delivered Poe's stories (pictured).  Many guests continue to ask staff and volunteers to repeat this wonderful event! 
Consequently, back by popular demand, Friends participated in the next community Big Read event: True Grit.  Friends hosted many staged events, including "A Day of True Grits."  One volunteer took on the persona of Ophelia Dent who portrayed the character so accurately that several people began asking more about her.  A Grits Bar was served with all kind of toppings for grits - it was quite a hit!
Friends of Hofwyl-Broadfield Plantation has a wonderful gift in making guests feel like family. Their hospitality welcomes visitors time and time again. Among those visitors are their local mayor, their county commissioners, and other local leaders.  
Staff and volunteers have a wonderful relationship of working together.  Not long ago, Site Manager Bill Giles presented a new Business Plan to Friends, the local mayor, commissioners, and the entire community outlining the needs of the site and his hopes for the future. The Visitors Center's auditorium was filled illustrating that this state treasure is important to the community not only for its historical beauty, but also because the people who work so hard to preserve it have a passion for making a difference in the community.
Some other annual events include their Christmas Candlelight Tours – a special event that is over 30 years old. Friends' 5th annual Easter Egg Hunt was held in the spring of 2014 with over 70 youngsters attending, their 2nd annual Plein Air Artists Paintout on the grounds was recently finished with traveling art shows of the paintings in the area, and Friends hosted a chamber of commerce Business After Hours with over 200 people attending, many of whom had never been to Hofwyl.
Friends continues to bring thousands of dollars in funds to the site for special projects.  A beautiful new entrance sign with landscaping was installed, a nature trail was established, and spraying equipment was purchased in order to make functions during "bug season" possible.
During the winter of 2013, Friends of Hofwyl-Broadfield had the special opportunity to host over 200 statewide Friends volunteers and park staff for a special cocktail hour and social event in celebration for the hard work and efforts that statewide volunteers put forth every day. 
While all of these success stories (and many others) are cause for great celebration, perhaps none are as impressive as the Friends efforts towards opening Hofwyl-Broadfield Plantation State Historic Site back to five days a week, beginning July 2014. Friends is looking forwarding to helping the site host many more weddings, picnics, and special events that will bring beautiful memories to Hofwyl and those who visit. 
Thank you for your continued support for Friends and this treasured historic site!