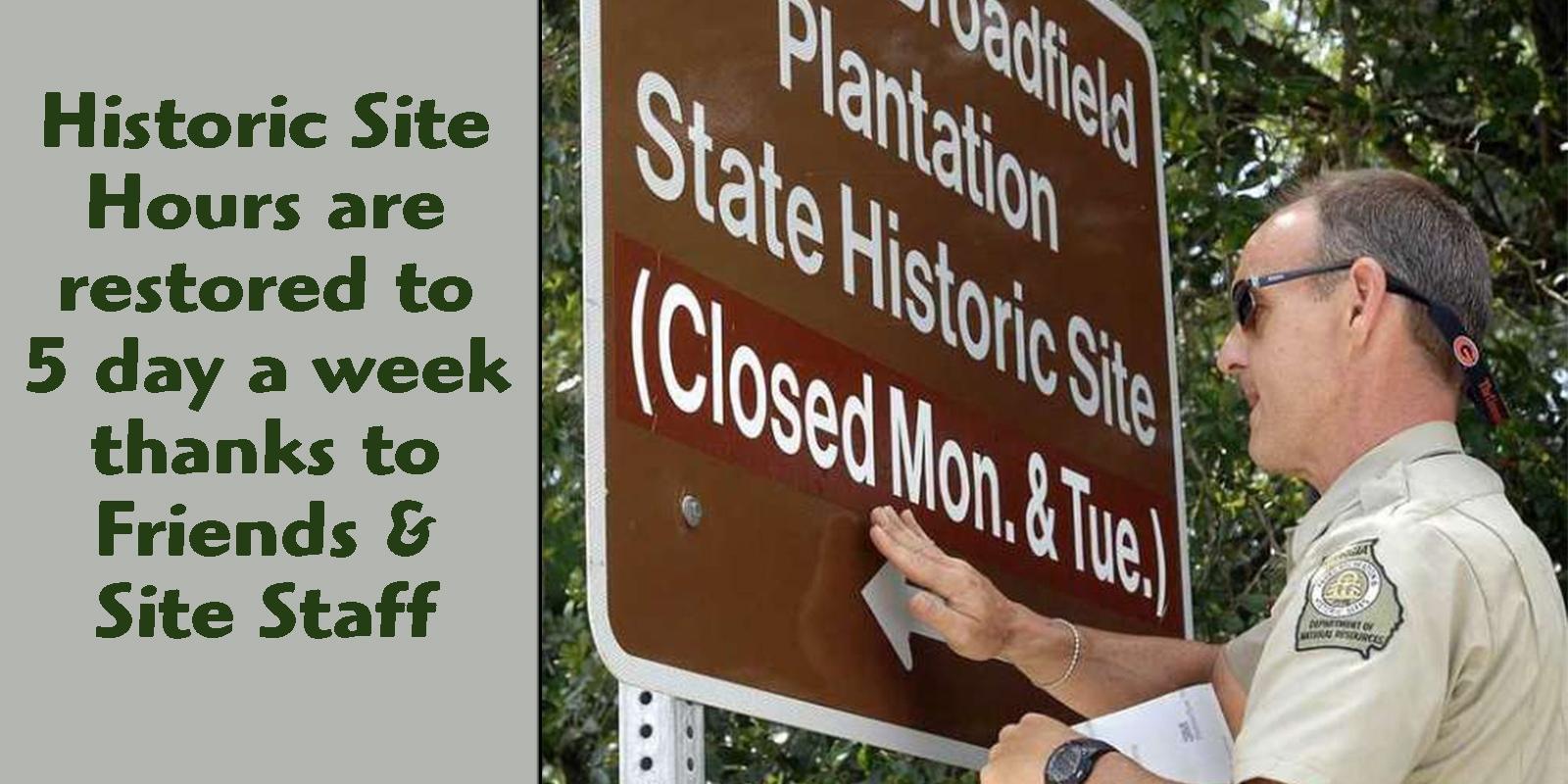 Bill Giles, manager of Hofwyl-Broadfield Plantation State Historic Site, smooths down a decal on a road sign that tells the park's schedule. The historic site had been open only Thursday through Saturday. However, thanks to Friends, this fascinating, antebellum plantation is now open five days a week.  
When state revenues plummeted in 2009, the state cut Hofwyl-Broadfield's operating days to Thursday through Saturday.
Friends has been working ever since to get the hours restored. Friends of Hofwyl-Broadfield provided funding for the staff that will allow the additional hours. However, the current challenge is getting the word out to folks and encouraging guests to visit. It's not quite as simple as changing a few road signs. Staff and Friends volunteers are trying to get the word out to the local community as well as a few travel websites. 
Additionally, Sunday hours have been extended from a half day to a full operating day.  Manager Giles, along with trustee Gordon Strother, recognized the demand for early morning tourists visits before hitting the road for afternoon travel.  The previous 2pm-5pm operating hours was not meeting this demand.  In fact, other area historic sites that had extended hours were able to increase their revenue and provide services for guests more effectively. 
"When Fort King George went to a full day Sunday, visitation improved 150 percent,'' Giles said. Giles also took a look at travel patterns.
"We were opening up just as the traffic was slowing down," he said.  Although the site doesn't expect an immediate transition to increased visitation, they are hoping that over time, the increase in operating hours and increased public service will help increase revenue and lead to more sustainable operations.
*Article adapted from "Hofwyl-Broadfield historic site in Georgia gets 2 more days of operation each week starting Wednesday" by Terry Dickson of the Florida Times-Union. To read the complete article, Click Here.