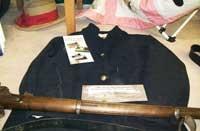 Magnolia Springs State Park, located in Millen, Georgia, is perhaps best known for its beautiful crystal clear springs and incredible Civil War History. During the Civil War, this site was called Camp Lawton and served as "the world's largest prison." Today, very little remains of this former prison.
However, there have been some significant findings revealing some of this incredible history. Artifacts from the archaeological work being done at Magnolia Springs State Park (pictured) are on display at the Georgia Visitors Center on I-20 at Augusta.
Not only is there a fantastic history awaiting discovery at this beautiful Georgia state park, but you can also enjoy fantastic trails, biking, and geocaching. The lake provides a serene atmosphere for fishing or lakeside picnics.
Friends volunteers at Magnolia Springs are looking forward to seeing you at the park!