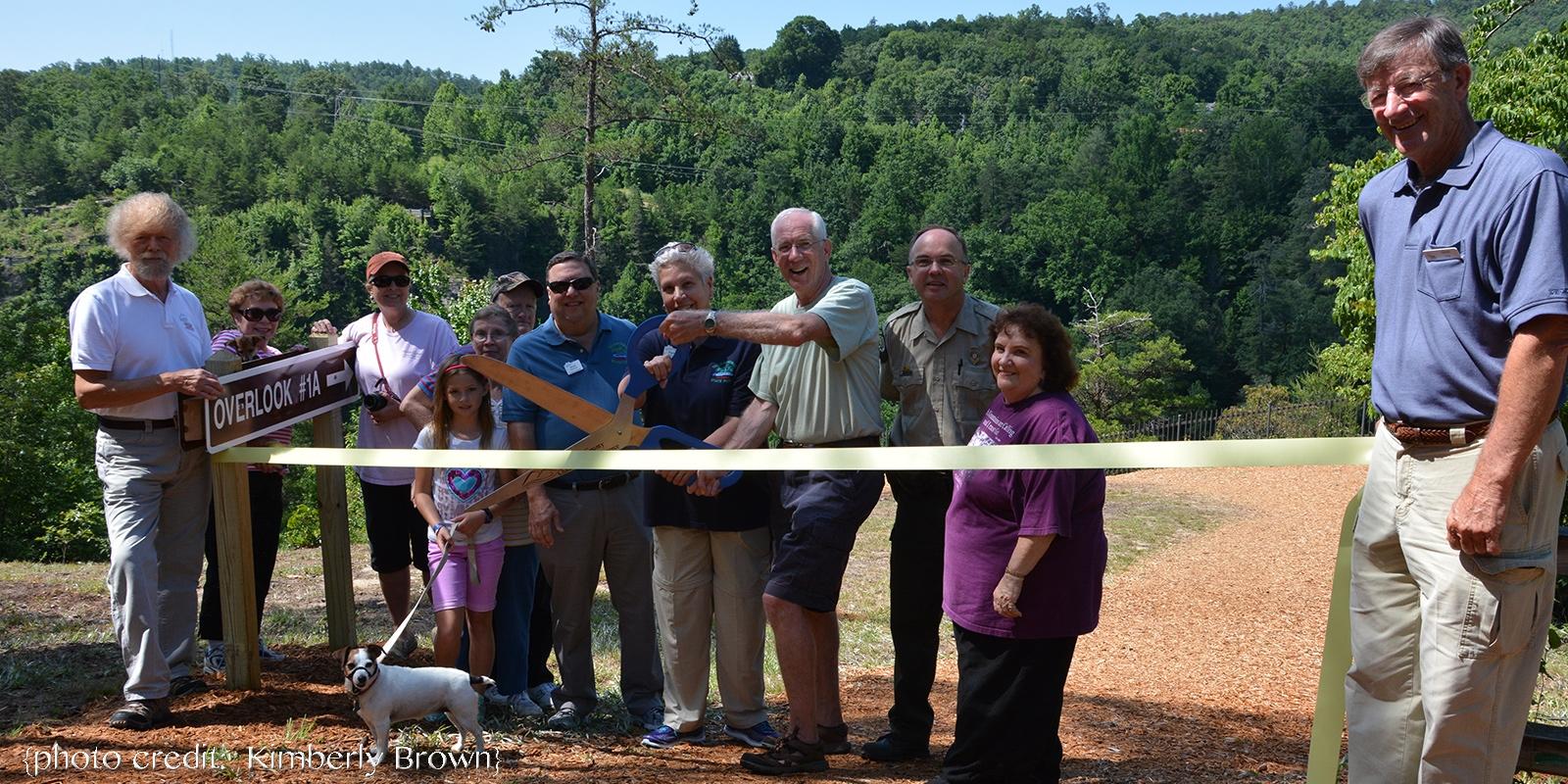 Tallulah Gorge State Park's newest overlook was recently completed. Thanks to funds and volunteer efforts from Friends, this $16,000 project allows visitors to see the suspension bridge, part of Hurricane Falls and the Tallulah River. Park Manager, Danny Tatum, says that the park has received much positive feedback regarding the new overlook.  Railing construction and clearing the rim growth were added efforts to make the overlook pristine. Present for the ribbon cutting dedication were Burt Weerts of the State Friends board, Jackie Kates, Nita Thompson, Kaylee Marks, Ted and Gretchen Newhall, Rich and Patty Mallicote of Friends of Tallulah Gorge State Park, Bill Purvis President of Friends of Tallulah Gorge, Manager Danny Tatum, JoAnnSmith of Friends of Tallulah Gorge, and Glenn Ivie of State Friends board. 
Whether you are new to the Tallulah Falls area or new to Georgia, we welcome you to explore the wonders of Tallulah Gorge State Park.  Kimberly Brown is one such visitor who has loved and appreciated the beauty of this state treasure for years.  
Keep reading to hear her story...
Several times since we've lived in the north Georgia mountains, I've encountered other newcomers to the area who have told me, "You know, I really need to get over to Tallulah Gorge sometime." They've taken up residence in Northeast Georgia, but they haven't seen what I believe is Habersham's and Rabun's best asset. 
In the 11 years we've lived in Habersham County, I've had many terrific experiences at TGSP, and, in fact, it's one of the primary reasons we moved to the north end of the county. 
I've watched the water being released from the dam for both aesthetic and boating releases. And I've watched kayakers in their colorful little boats try to maneuver through the Class V rapids created by the increased flow. A lot of times, they get out of their boats to consider what they're about to do. Some of them, probably the experienced ones, just go for it and others choose to carry their kayaks over the rocks rather than face the swift water of Oceana Falls.   
Several times I've photographed helicopters flying through the gorge on Department of Natural Resources search and rescue training missions. Just recently I was able to photograph a real event, which involved Habersham and Rabun counties' high angle rescue teams rappelling down into the gorge in search of someone who got off the trails and was lost on the heavily wooded rocks.
I've even tried rappelling myself--in the gorge, naturally. It seems like a long time ago, but my daredevil daughter challenged me to give it a try during Women's Wilderness Day, which used to be held at the park. Fortunately, we went down one of the smaller cliffs, but it was plenty high for me. Like running a marathon, it's something I'm glad to be able to check off my bucket list, but it's not necessarily something I'll ever try again. But I'm grateful to those on the high angle teams who love to climb the cliffs, and who are willing to go fetch a lost or injured soul.
I've also laid on the ground in cold October weather during Wails to Trails, another event formerly held at the park. Long before our six-year-old Caden was born, Ed and I agreed to act as unfortunate travelers who died in a train wreck. We painted our faces with pretend blood, I borrowed an old fashioned dress from Habersham Community Theatre, purchased a black shawl to wrap around me, and there we were, lying on the trail, giving the occasional ghostly moan, while a storyteller told about our ill-fated train ride. 
But possibly the best experiences are the everyday events at the park. The Short Line Trail is one of our favorite places to walk. Since it used to be part of the rail line, the trail is flat and paved and it goes through some beautiful rocky territory. In the springtime, I've photographed many trillium blooms on the side of the Short Line Trail, and I've even seen the unique persistent trillium, which is just about exclusive to TGSP. I've even suffered through...I mean participated in..."stair camp," a fitness challenge camp that involved days of walking down into the gorge (and back up) on 1,000 stairs. 
We've tried to explain to Caden how fortunate he is to grow up in such a wonderful place. We've told him people come here on vacation to see our sights and to visit Tallulah Gorge, a place we can see every day if we choose. If you're one of the newcomers who hasn't quite had time to make it to Tallulah Gorge, get there as soon as you can. Just don't wander off the trails. 
{This article was submitted by Kimberly Brown and Reprinted courtesy of The Northeast Georgian}