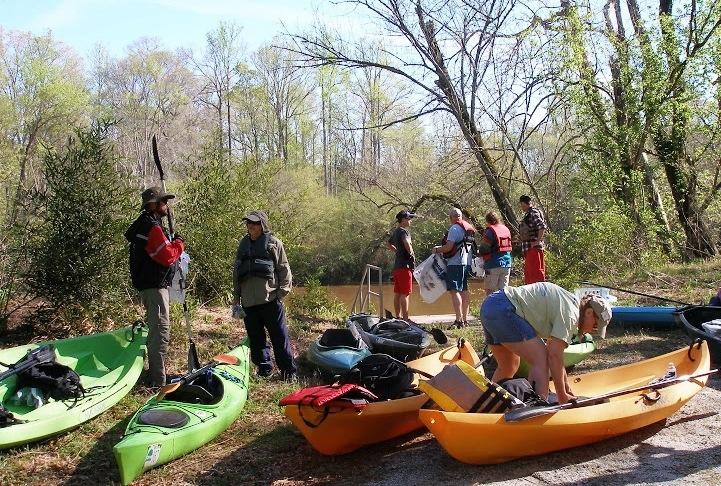 Friends of Chattahoochee Bend is starting construction of new hiking trails at the park on September 28, beginning at 9:30 a.m. for anyone interested in volunteering.
Visitors to the park can hike alongside the river or on hilly inland trails, enjoy the views from an observation tower, picnic at the riverside day-use area, have fun at the park's children's playgrounds, canoe, kayak, fish, geocash, and generally enjoy the fall weather in Chattahoochee Bend's natural setting.  Fee-based canoe rentals and camping - including traditional tent pad sites, RV sites, or riverside platform camping – are also available.
"We hope people will take advantage of the day, and the cool fall weather, and come out to enjoy everything that Chattahoochee Bend has to offer," said Chattahoochee Bend Friends President Steve St. Laurent.  "Bring a kayak or canoe, or hike along the river.  There is no other public park in Georgia where a natural Piedmont river environment, large granite flatrocks, montane longleaf pine woodlands and mature upland hardwood forests can be experienced within such a short hiking distance."
The Friends of Chattahoochee Bend have raised funds and volunteered at the park since 2009,  two years before the park's opening.  The Friends have built 8-plus miles of hiking trails, provided improvements to campsites, rental canoes for use on the Chattahoochee, planting and beautification projects, and led activity programs and river–clean-ups.
Friends volunteers will begin work on new trails on September 28, starting on a 5-mile series of loop paths that extend eastward from the visitor's center on Bobwhite Way to the park's scenic flatrock area. Those interested in joining the volunteers can meet them at 9:30 a.m. that morning at the park's Visitor's Center.
Additionally, volunteers will go home with a discount coupon for future state parks accommodations.
'"We have had good volunteer support for the park well before it was open," said Greg Hyde, chapter Vice-President.  "It's a good feeling to help build things that your family and visitors from around the state will enjoy for years to come.  It becomes part of your family legacy that you helped build your local park, and that kind of community support has brought the park to where it is today."
Chattahoochee Bend State park is located on Flatrock Road in Western Coweta, 6 miles north of Georgia Highway 34 and Powers Crossroads.  Opened in July, 2011 as Georgia's first new state park in a generation, it is Georgia's 5th largest park, with 2,900 acres of varied natural land and five miles of frontage along the Chattahoochee River.
Those interested in visiting or volunteering are encouraged to go to www.bendfriend.com for directions, volunteer project descriptions, or to find out more about the park.  To reserve campsites or picnic shelters, visitors can call the park at 770-254-2751, or visit www.gastateparks.org.
Friends of Georgia State Parks annual passes for families or individuals are also available at Chattahoochee Bend's visitor's center.  The pass covers all parking and entrance fees at Georgia state parks for a year, and provides discounts on rentals and purchases.
"We are sponsoring the annual 'Your State Parks Day' to remind Georgians that these
parks and historic sites belong to them," said Andy Fleming, executive director of the
Friends of Georgia State Parks and Historic Sites.  The Friends are sponsoring Georgia's "Your State parks" day with help from REI.
"Parks enrich communities and give us safe places for outdoor recreation. Our historic sites help educate school children in a way that can't be done in a classroom," said Fleming. "So during this event, we hope Georgians will visit sites closest to their homes or even join in on service projects."