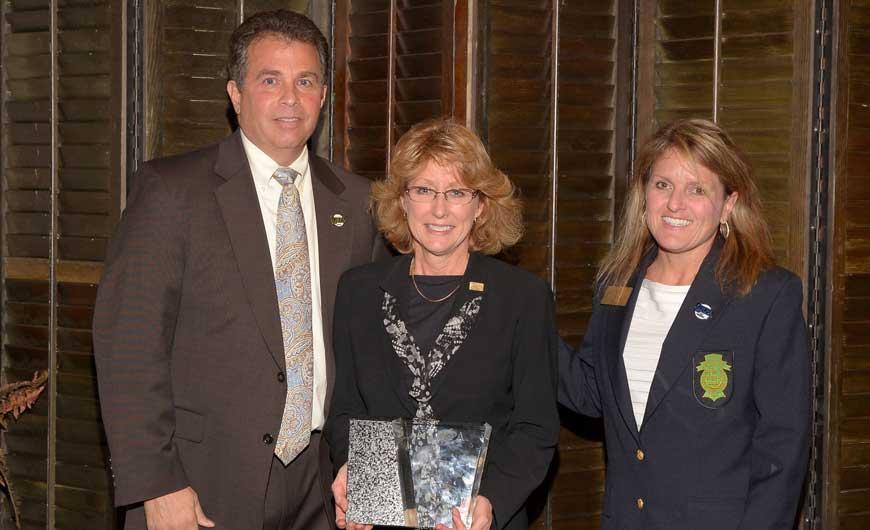 We are very proud of Becky Kelley, Director of Georgia State Parks and her tireless efforts in support of our parks. Congratulations Director Kelley on this great achievement and thank you for your continued partnership as we work with you to help protect and enhance Georgia's state parks and historic sites!
ATLANTA, November 19, 2014 -- At the recent Georgia Recreation and Parks Association (GRPA) conference, Georgia State Parks Director Becky Kelley received a lifetime achievement entry into the GRPA Hall of Fame. GRPA's award recognizes extraordinary contributions to the recreation, park and conservation movements in Georgia.
According to GRPA, Kelley's vision, leadership, career achievements, passion and love of her profession are a few of the characteristics that qualify her for the honor. Last year's Hall of Fame inducted Sharon Plunkett said Kelley is "one of the most dedicated, committed and hard-working individuals I have ever known."
Kelley was appointed director of the Georgia Department of Natural Resources' Parks, Recreation & Historic Sites Division in September 2002. As director, she oversees more than 60 state parks and state historic sites, which are significant tourism assets and economic drivers for local communities.
Under Kelley's leadership, the division has twice been a finalist for the National Gold Medal Award for excellence in long-range planning, resource management, volunteerism, environmental stewardship, program development and professional development. The division also received the inaugural 2009 National Award for Planning Excellence for Georgia's Statewide Comprehensive Outdoor Recreation Plan (SCORP).
Prior to her work with the DNR, Becky was with DeKalb County Parks and Recreation where she administered the development of Arabia Mountain National Heritage Area and spearheaded the county's first comprehensive plan.
Kelley is active with the National Association of State Parks Directors, National Recreation & Parks Association, National Association of State Liaison Officers and National Association of Recreation Resource Planners. Kelley is a magna cum laude graduate of the University of Georgia with a BS degree in Recreation Administration. She lives in Henry County with her husband, Steve.