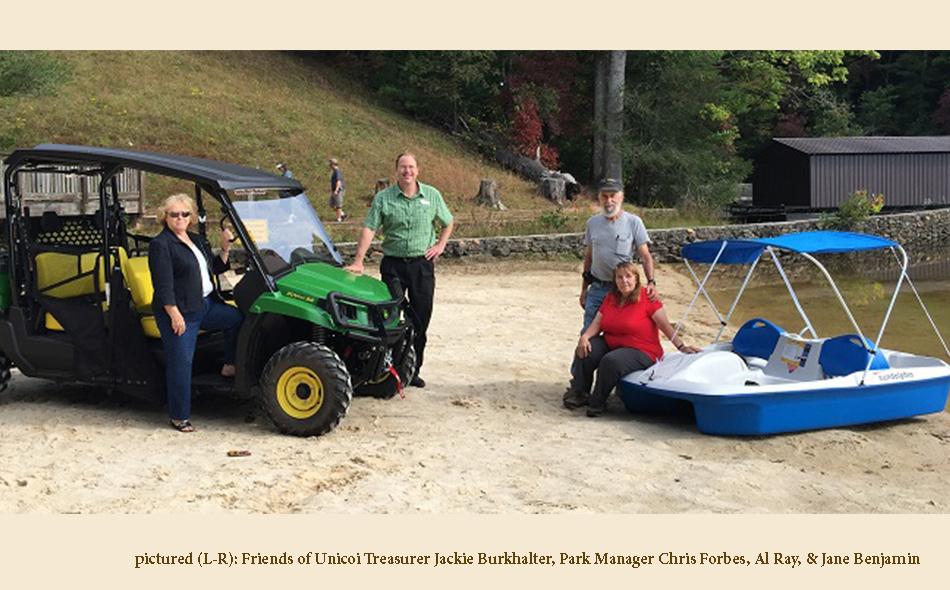 Thanks to Friends of Unicoi State Park, Unicoi now has several much-needed items to help make the park better enhanced and nurtured for all guests. The park was in great need of a multi-purpose, four-wheel drive utility vehicle for off-road rescues and trail maintenance – as well as various other needs throughout the park. Fortunately, Friends was able to graciously come to their aid.
Friends of Unicoi purchased a John Deere "Gator" utility vehicle and donated it to the park to meet their needs. In addition, Friends purchased eight peddle boats for the park for programming and use.
Purchases were made possible through generous donations, raffles, silent auctions and matched funds from Statewide Friends. Jane Benjamin, a Friend to Unicoi, recently contributed money to the Friends of Unicoi for the purchase of a Peddle Boat in memory of her dear friend, Ann Pittman Thompson.
Friends is honored to have hard-working volunteers who are making such terrific impacts for the parks and all the guests. Thank you to our Friends chapter at Unicoi for helping to make the park a safer, better place for all who visit!
Very special "thanks" to all those who have donated to Friends and support ongoing programs and fundraisers at the parks. It's your membership, donations, and support which makes projects like this possible!