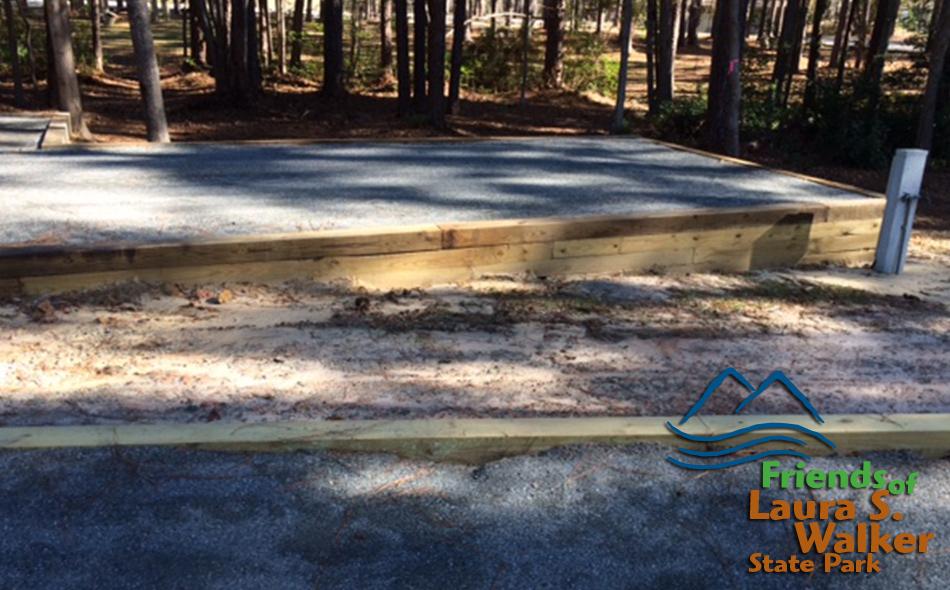 Friends volunteers at Laura Walker State Park in Waycross, Georgia continuously give their time and energy in a multitude of ways. Ultimately, their goal is to provide a safe, beautiful place for individuals and families to come enjoy all the benefits of nature for generations to come. They're accomplishing this goal through various projects at the park and helping provide the park with tools and supplies during their time of need.  Through fundraising efforts, Friends is able to provide maintenance and safety equipment for the site.  Recently, Friends purchased a bush hog to extend walking trails at the park, repaired tractors at the site, and bought equipment for fighting fires.
One of their larger, more demanding projects recently took place in the park's campground. Older campsites are now in the process of being revamped and updated for larger rigs with framing and leveling. The former 25-foot campsites are now level and can accommodate 40-foot RV rigs and motor homes. 
Many thanks to Friends of Laura Walker for their diligence and efforts!  If you would like to support this incredible Friends group with your time and efforts, visit their Facebook page and start volunteering! www.facebook.com/friendsoflaurawalker  
You can also make a donation to Friends to support ongoing projects like these when you Click Here.