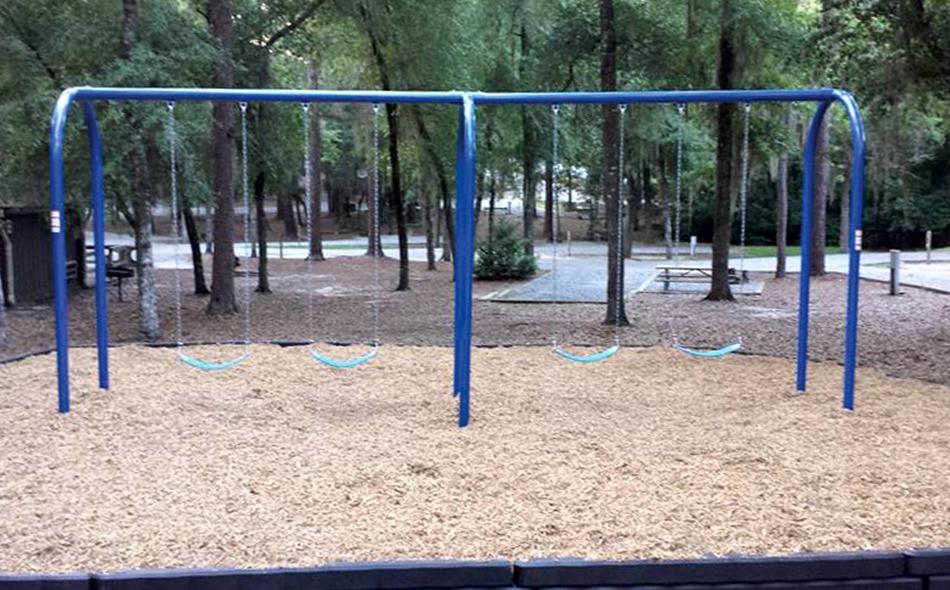 Little Ocmulgee State Park is an active family's dream vacation destination. With available bike rentals, children's splash pad, mini golf, canoe rentals, hiking trails, lake swimming, tennis courts and playground, this park offers a wealth of opportunities for all ages. For the camping family, pitching a tent among live oaks and Spanish moss is a special treat! However, it wasn't until recently that the campground met some new features.  
Friends of Little Ocmulgee State Park recently provided new playground equipment in the campground.  Toddler swings and "big kid swings" are ready for use along with a bench for mom and dad.  This new play area is easily accessible to both the upper and lower loop campers, near the restrooms. Friends was able to raise funds to provide the equipment for camping families to better their experiences at the park. 
Special "thanks" to everyone who has supported Friends and our efforts to improve our parks.  Next, Friends of Little Ocmulgee will begin working to make the parks playground ADA accessible.  Please consider donating to Friends to help make this project, and other projects like it, successful.