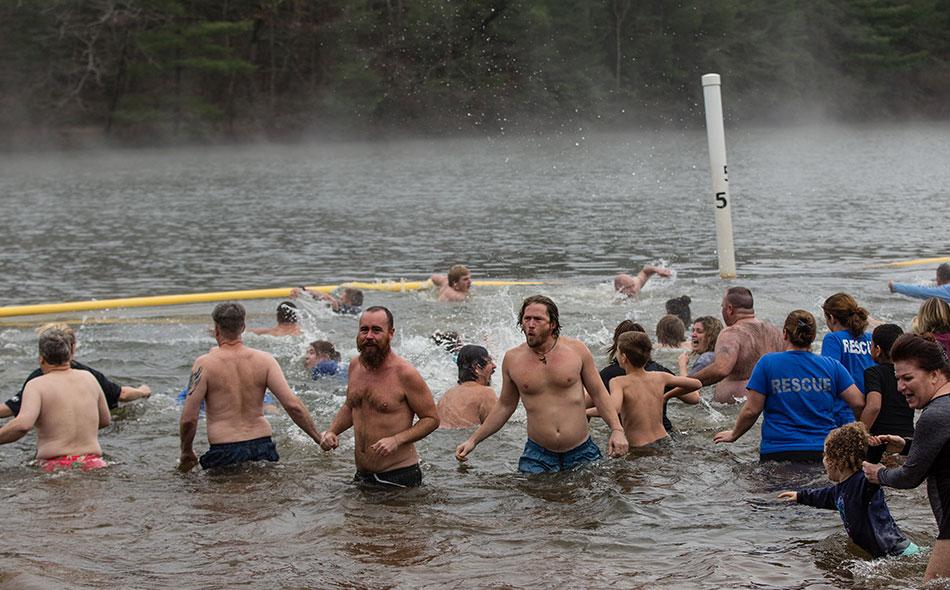 Despite the 43 degree temperature, 92 people took the Plunge at Fort Mountain State Park New Year's day! Friends of Fort Mountain hosted their 4th Annual Black Bear Plunge with much enthusiasm and anticipation! Families and individuals alike of all ages dove into the 57 degree waters of the lake and make it a New Year's to remember. 
Friends of Fort Mountain served hot chocolate, coffee and s'mores to the frigid, brave souls while 120 others came out for some fun entertainment and to cheer on the participants.  Friends volunteer, Eddie Cox, also had a roaring fire ready for all once folks made it back to shore. It was a great morning for all! 
Thanks to all the Friends volunteers who worked so hard to make this event happen and for those participating in this event in support of Friends. Your support helps make these programs, and others, possible so that Friends can continue to achieve various conservation and enhancement projects at the park.
To donate to Friends of Fort Mountain in order to help with their ongoing efforts, Click Here. 
Special thanks to John Creek Photography for capturing this event. John continuously donates his time, talents and treasures to support Friends and our efforts to protect Georgia's beautiful places. To see more of his work, click here.