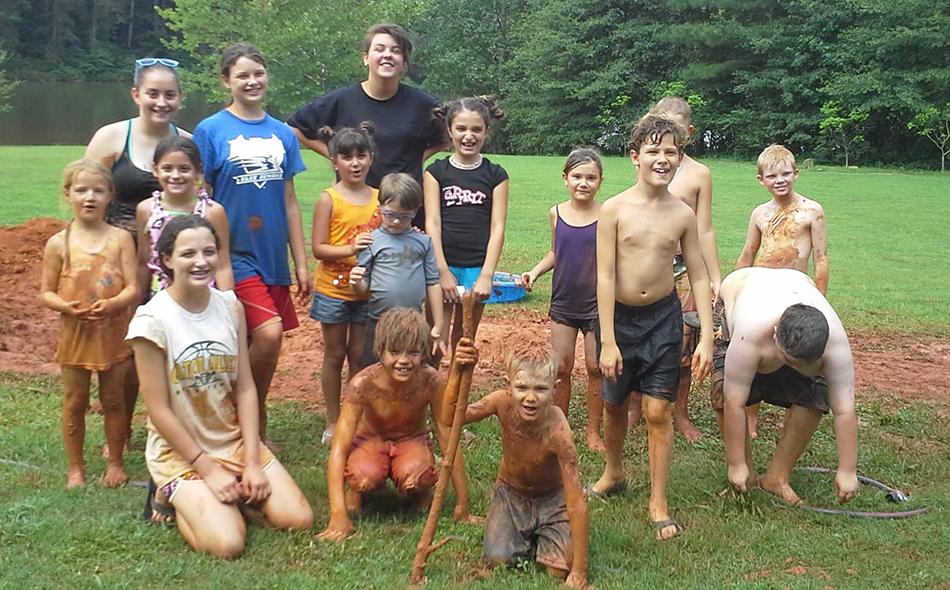 Preserving our historic treasures is central to our mission. What better way to take care of our cultural and natural resources than to have a party in the process? On Saturday, July 16, 2016 from 9am to 7pm, Friends of Fort Yargo will be hosting their 3rd Annual Chinking Party, welcoming kids of all ages to come play in the mud! Each year kids have a blast coming out to the park and romping in nature's playground. By the time they're done with all of their hard "work", we have a fabulous supply of chinking to reseal the blockhouse and beehive oven.
Chinking is a flexible sealant (in this case, mud and straw) used to seal the joints of a log home or building.  Over the course of the year, the chinking cracks and the seals need to be refinished in order to restore the historic integrity. This is a perfect time to reconnect your kids with nature while simultaneously getting them involved in a preservation project!
To come join in the fun, make sure your kiddos show up at the park prepared to get very dirty stomping in the mud. The fun begins at 2pm Saturday, July 16 and after Friends volunteers will take everyone on a hayride to the beach to cleanup. We recommend wearing old clothing or a bathing suit and bringing a clean change of clothes. We'll conclude the party with dinner at 6:00pm. Bring an instrument and have an evening of fun and fellowship by the campfire Saturday night after dinner! 
RSVP for the party HERE. 
We are looking forward to seeing you there!