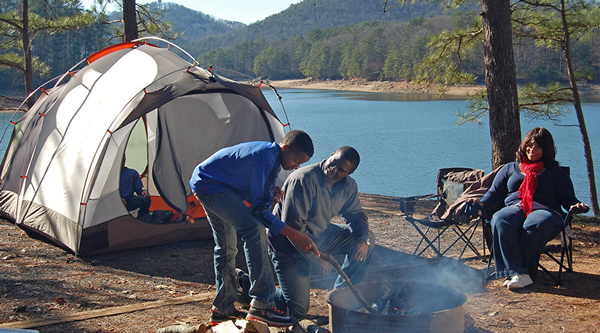 Why winter camping? We all have our reasons but two great benefits are fewer bugs and more solitude. Camping during the winter is just not a favorite time for most folks but for the few that try, it can be a rewarding experience!  Connect with the outdoors, enjoy the peaceful solitude and consider some of these hacks for staying warm:
5. Water - Stay hydrated! 
It can be easy to get dehydrated in the cooler temperatures. Get plenty of complex carbs, drink water and enjoy some warm tea or coffee for a treat. 
4. Hand warmers
But don't stop there! These come in handy for warming your feet, too. You can find them at your local retail stores or online 
3. Yoga Mats 
They eaily transport as a nifty roll and can add extra padding to your sleeping bag. Bonus! They keep you better insulated from the cold ground to give you a better night's sleep. 
2. Wooden Cooking Utensils
If your metal utensils get too cold, it can cause your food to drop in temperature. You also won't be holding onto a cold metal handle while stirring that delicous, warm soup that you're cooking over the fire!
1. Synthetics?!
They are less expensive than wool and will still wick away moisture. Your cotton clothing will absorb moisture keeping you cold! Try synthetics for affordable, dry camping clothing. 
*BONUS*
For an even more pleasurable experience, camp for free! Friends members get up to two nights of free camping plus a ParkPass and other incredible discounts that you can use all year! Check out detials HERE
For camping in even the coldest weater comditions, check out some more expert advice from REI 
Share your success stories and your favorite winter camping location with us on Facebook & Twitter
{photo credit: GA DNR}