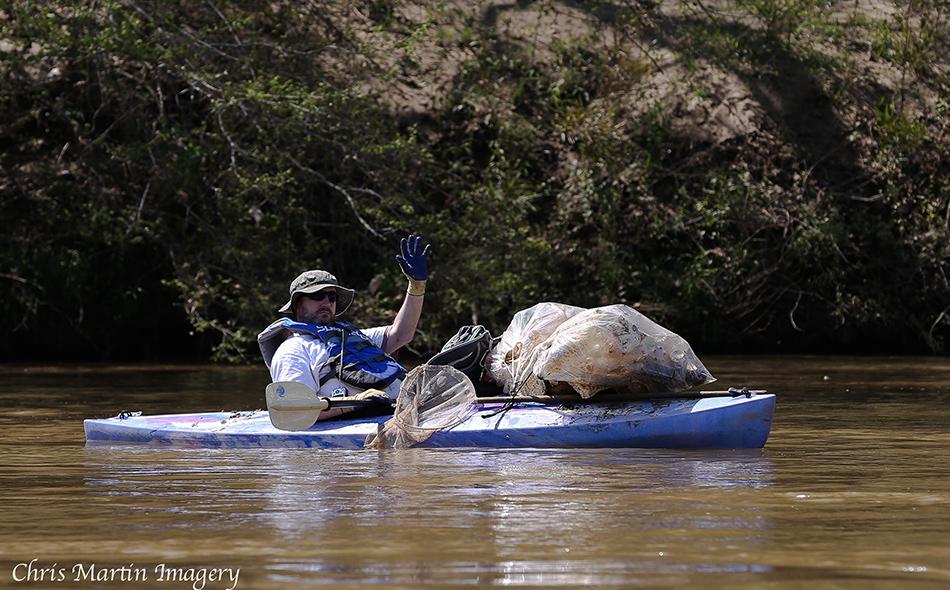 UPDATE: Thank you to all who joined us for Sweep the Hooch 2016! 30,975 POUNDS of debris we're cleaned up or recycled at 40 different sites during the Sweep the Hooch event. Although it's certainly a shame that there was that much trash in the Chattahoochee, we are thrilled by the efforts of all the volunteers who put forth their time to restore this Georgia treasure. We hope you join us again next spring for Sweep the Hooch 2017
.....
It's time for another big cleanup of the Chattahoochee River! Friends is partnering with Chattahoochee River Keepers and Georgia State Parks to try to make this the biggest cleanup to date.  
On April 9, 2015 volunteers will be paddling the Chattahoochee and walking the shores in a massive effort to preserve this state treasure.  In 2015, 500 walkers, waders, and paddlers removed 14,320 lbs., or 7.16 TONS of trash out of a 60-mile stretch of river. This year, hundreds of volunteers will be meeting at Sweetwater Creek State Park (Lithia Springs), Don Carter State Park (Gainesville), and Chattahoochee Bend State Park (Newnan) to top last year's efforts and restore the Chattahoochee to it's natural splendor! 
To participate in this cleanup event, register at www.sweepthehooch.org.  
What: Sweep the Hooch – Volunteer Cleanup of the Chattahoochee River
When: Saturday April 9, 2016 (9AM to 2PM)
We hope to see you there!