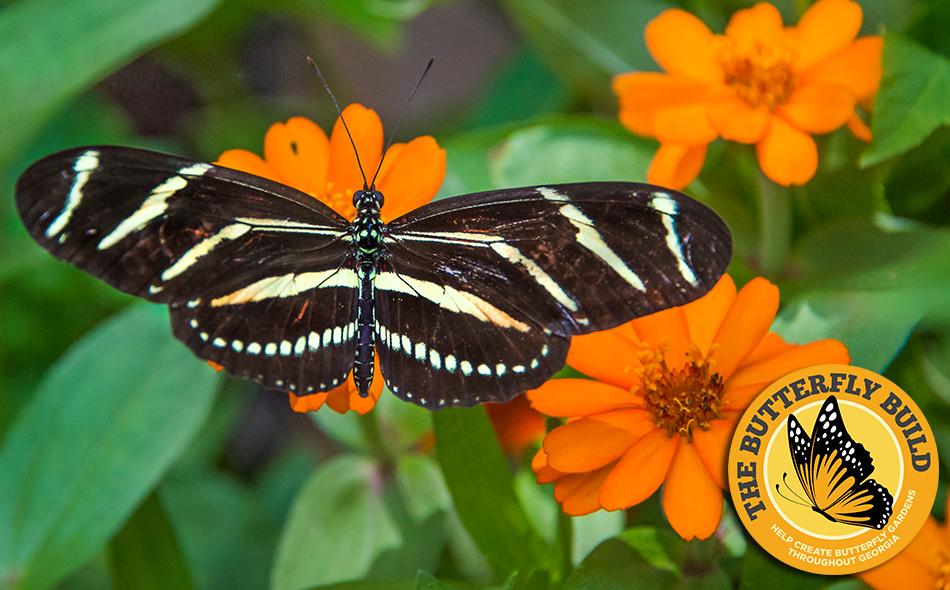 Pollination is a keystone process in our ecosystems and is critical for our food production. We depend on our pollinators to keep our parks beautiful! Unfortunately, our country has seen a significant decline in pollinator populations so we decided to join the solution. 
Recently, Friends constructed over 50 pollinator gardens at Georgia's state parks and historic sites and now we're ready to celebrate our pollinators! Thanks to our partners at the North American Butterfly Association, there are several family-friendly events that are just around the corner and we would be honored if you joined us for the celebrations.
Butterfly Count Workshop at Sweetwater State Creek Park  
Friday, April 15, 2016 at 10:00 am to 3:00 pm
1740 Mt. Vernon Rd., Lithia Springs, GA 30122.  
This is a special program to learn how to identify butterflies in the field.  After we talk indoors, we'll go outdoors to apply our learning and see Spring flying species.  $5 parking/Free for Friends members
Earth Day Family Fun Day at Butterflies & Blooms in the Briar Patch
April 23, 2016 at 10:00 am to 4:00 pm
419 Oak Street, Eatonton, GA  31024
Enjoy live entertainment, games, crafts and door prizes for all ages.  Local honey, produce, butterfly garden plants, artwork and food will be available for sale.  There is a $5/family admission fee. Friends membership do no apply. 
Spring Butterfly Count at Sweetwater Creek State Park
Friday, April 29, 2016
1740 Mt. Vernon Rd., Lithia Springs, GA 30122
Are pollinators on the rise? Perhaps we'll see a Zebra Tiger Swallowtail as it's been recently reported that they are in the area! This butterfly count is a wonderful opportunity to apply the butterfly ID skills from the workshop. $5 parking/Free for Friends members
Georgia Native Plant Society Annual Plant Sale
April 16, 2016 at 10:00 am to 2:00 pm
McFarlane Nature Park, 280 Farm Road, SE, Marietta, GA  30067
Are you ready to supplement your butterfly garden?  For inspiration, visit the NABA website. If you are interested in purchasing plants but are unable to make it to the sale, no problem! Cobb County Master Gardeners and Monarchs Across Georgia have a plant sale at the Jim Miller Park Equestrian Center April 22 and 23 from 10 a.m. to 4 p.m as well! 
If you haven't started your garden but would like to, now is a wonderful time. Click Here for garden plans then pick up your plats at the Annual Plant Sale this month. You may find additional inspriation at the other events listed above as well. We hope you enjoy!