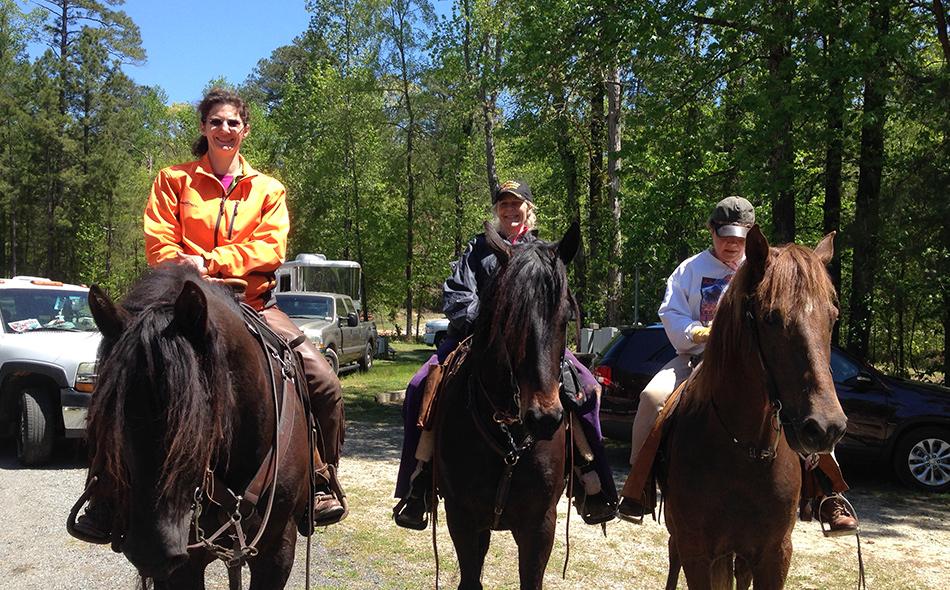 Not many parks have equestrian facilities but Georgia is fortunate in that over 100 miles of riding trails are easily accessible and enjoyed by many. You can bring your own horse or opt for horse rental. Six of Georgia's state parks provide horseback riding trails, equestrian campsites, horse stalls, and riding rings.  A.H. Stephens State Park is one such park and Friends volunteers have made great strides in helping care for these facilities. 
Recently, Friends hosted a great three-day fundraiser.  Volunteers came with big hearts and gave willingly to assist us in raising money to meet some of the financial commitments for the equestrian facilities. All made generous food contributions.  
The weekend fundraiser began with an a potluck dinner followed by time together around the campfire relaxing before the busy day ahead.  Saturday morning, folks saddled up and rode the trails and played poker.  By noon, lunch was served and then the big drawing for the $500.00 VISA gift card. Susan Archer held the winning poker hand and she generously donated her earnings to the cause. Other participants enjoyed various door prizes and all enjoyed a wonderful time. 
The afternoon was filled with more riding and fellowship. All were welcomed to a spaghetti dinner and Donna and David Mull provided everyone with fiddle, guitar and singing.  Those who stayed the night enjoyed a wonderful movie under the stars on a large, blowup screen. 
Although it was a fundraiser weekend for the equestrian facilities at A.H Stephens State Park, the weekend resulted in a wonderful time of comradery.
The weekend came to quick end with a wonderful community breakfast. As everyone gathered for sausage and pancakes, it was evident that all had a great time. Special thanks to all who donated to this event and helped make it possible! Another note of appreciation goes to all the volunteers who sold tickets, cooked food, gathered prizes, helped the entire weekend, created flyers, and helped organize the event. Thank you!