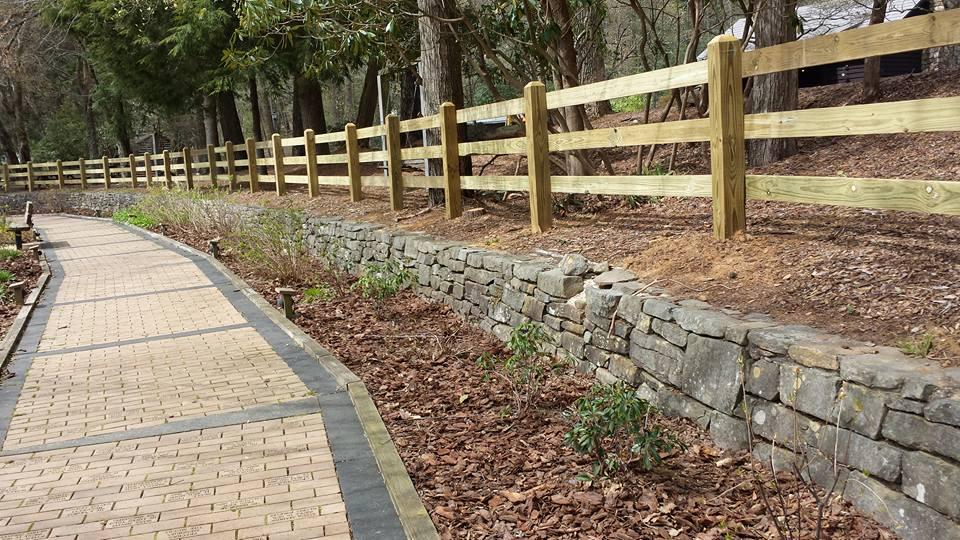 Extensive upgrades and renovations are happening at Vogel thanks to Friends volunteers!
Friends volunteers at Vogel State Park in Blairsville recently completed the upgrades in the campground on comfort station #2. What a great improvement project that will benefit all of our avid campers! Many of our members are regular campers at the parks and it is critical for us to help make their experiences as wonderful as possible. We think you'll be pleasantly surprised by these renovations. 
In addition to the campground, we supported the park in transforming the miniature golf course to make it accessible for all. After installing the signs as the finishing touches along the course, it is now approved for accessibility so that individuals and families with wheelchairs and strollers can enjoy this fun recreational activity!
Keeping the park pristine is essential to keeping the park welcoming for visitors. We also recently installed the new fencing between the beach and picnic area, and added another 20 feet to our Memory Walkway. Volunteer have been busy mulching and planting annuals and perennials throughout the park. New Adirondack chairs for overnight guests at the cottages were built and the lakeside trail is seeing wonderful improvements as well. We are repairing and re-graveling the lakeside trail and staining the wood bridge. Time to come and see the results!
In the midst of all of these extensive projects to help make the park more enjoyable and welcoming for all guests, volunteers are also working on planning future programs and projects. Summer time brings the annual children's fishing rodeo. What a fantastic way to help kick off the summer to a great start! This fall we will be hosting the Music and Craft Show on September 10th.
Thank you to all our volunteers, donors and partners. Your support for Friends is helping us transform this park one project at a time. 
Click here to suppport our volunteers at Vogel!