A successful chapter is always on the lookout for ways to spread the word about the chapter and the site it supports.  An effective marketing strategy need not be complicated or involve thousands of dollars or even much effort.  The keys to effective marketing for a chapter are focus, consistency and a basic toolset.
Logos and Identity
Logos and brand identity are key to public recognition of our organization and chapters.  The logo (below) appears on all formal publications and on the web site.  In addition, a consistent color set has been selected that is also found throughout our publications.  Every effort is made to provide a consistent look and feel so that members and the public at large can easily recognize the organization and its publications.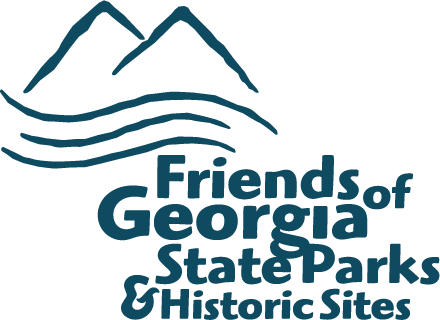 In keeping with the statewide look and feel, logos have been created for each chapter based on the above state logo.  Each chapter's logo contains the mountain and sea element and lists "Friends of" with the name of the site each chapter supports.  An example for Friends of Little Ocmulgee follows.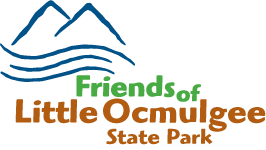 Chapters are strongly encouraged to use the logo provided for them to help provide the public with a consistent look and feel for the overall organization.  By utilizing the chapter logos, each chapter is able to differentiate itself from other chapters but still maintain an identity relationship with the parent organization.
Some chapters have been in existence for quite some time and have developed their own logos which have garnered some brand identity.  It is not expected that these chapters should abandon their logos in favor of the new one.  We refer to these logos as a heritage identifier.  It is important to continue the use of heritage identifiers for consistency's sake.  However, chapters are encouraged to begin using the customized logo in addition to their heritage logo and to begin a slow transition to the consistent use of the provided chapter logo.  
Chapters should be cautious to ensure a clear distinction between the chapter and the site.  The use of a chapter logo can help differentiate the organizations.
In addition to the consistent use of the chapter logo, a chapter should strive to provide a consistent look and feel in any printed material it produces.  That is not to say that a strict list of rules should be developed and followed.  Large corporations have such lists and for good reason when there are potentially thousands of employees using company logos and producing marketing materials.  However, for a chapter, it is enough to say that publications, signs, newsletters or advertisements should look similar to each other.As an example, a sign indicating the location of the chapter meeting should not look too different from a sign highlighting the location where an event is scheduled to begin.  A brochure about the chapter's activities and volunteer opportunities should not look that different from a monthly newsletter produced by the chapter for its members.
On-site Identity
One of the most important places to display the Friends identity is on the site itself.  Signs, apparel, brochures and the like should be displayed around the site to help visitors understand the importance of the chapter's activities. 
Site managers should work with their respective chapters to ensure the chapter's identity is displayed on site in keeping with division standards .
Chapters should also consider branded apparel as a great way to display their identity to visitors.  Chapters may work through the statewide vendor for Friends to have apparel created or chapters may also choose to have their own apparel created through a local provider.  Many local printing or embroidery companies can provide a wide variety of products printed or embroidered with custom logos.  Some will even offer discounts to non-profits or additional services such as keeping the logo on file for use on other products at a later date.  Chapters should work to build a relationship with a local provider in case the need arises for event-specific apparel or accessories.
Banners and Signs
Another great way to remind guests of the importance of the chapter is to use signs placed at special events and programs.  Local sign vendors can print signs in all shapes  and sizes.  Typical yard signs can usually hold enough information and are often available at very reasonable prices.  Here are ideas for some generic signs that chapters may want to have on hand:
Sponsored by Friends
Volunteers sign in here
Ask about volunteering or membership today
Banners welcoming guests to the park are also a great way to advertise and generate interest in the chapter and volunteer activities.  Statewide Friends occasionally produces banners and signage in bulk and makes them available to chapters at cost.
Press Releases
In many communities around the state, anything that happens at the local state park or historic site is potential news.  Many community newspaper editors are always on the lookout for stories of local interest that demonstrate volunteering, interesting activities or entertainment options for the weekend.  However, an editor can not be expected to automatically know everything that is going on in his or her community.  It is up to the chapter to help local newspapers discover the importance of the chapter and the site itself.
Any off-site marketing or press releases must be coordinated with the site manager and/or the Division marketing staff.
A relationship with the local media can be a major asset for a chapter.  However, in the absence of a strong relationship, press releases can be a great way to get the word out about upcoming events, points of interest and concern, or newsworthy accomplishments.
Social Networking
All chapters are encouraged to make efficient use of the many social networking tools available.  Social networking sites, such as Facebook, are great tools to stay in touch with supporters, organize events and to reach a new generation of volunteers.
Sites like Facebook allow users to show their support for and to keep in touch with a particular cause or group.  They frequently allow you to post pictures, create events and generally spread the word about what your chapter is doing.  While creating and using sites like Facebook to spread the word about your chapter is fairly straight-forward, there are a few things you should keep in mind when using them.
Remember, you speak for us all.  When a chapter leader or representative posts to a social networking site on a chapter page or the Statewide Friends page, it is important to remember that it reflects on all of us.  Posts should be respectful and should always comply with the purposes of our organization.
Chapter leaders should not post any comments that may harm the reputation of Friends or the Division.
Negative comments must be addressed.  The freedom of social networking sites like Facebook allows users to post their thoughts on just about topic.  Guests with a complaint about an event or your site will often post their complaints via social networking.  While it is tempting simply to remove them so they don't reflect badly on the site or the chapter, the best course of action is to deal with them.  With the help of your site manager, you should work to address and respond to the complaint in a quick and professional manner, just as you would if someone took the time to write you a personal letter.
The site manager should work directly with the chapter to swiftly address any customer satisfaction issues posted to a Friends site.
Post often and make posts interesting.  One of the advantages of social networking is that users actively express an interest and really want to know what is going on at your site.  While it is possible to post too often, it is more likely your supporters will always want more information.  At a minimum, you should post information about special events and programs about a week before they happen.  In addition, you will want to post any exciting news or developments for your site.  Lastly, this is a great place to invite supporters out for a volunteer day or to your next chapter meeting.
View your page as an asset and protect it.  A social networking page can be an amazing tool and can reflect hours and hours of effort.  Be sure to keep it protected by following the guidelines laid out in the Risk Management section of this handbook.  Like any other asset, your chapter's name must be protected and a social networking site can be a key part of your chapter's online identity.
Social networking can be a very valuable tool for your chapter's overall marketing strategy.  Many articles are available online that will guide you through creating a page for your chapter and maintaining your site.