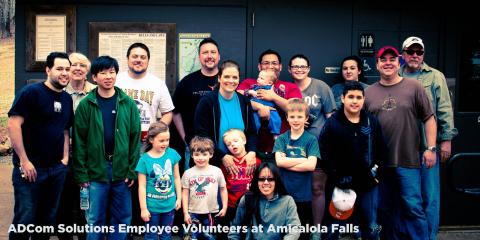 Friends of Georgia State Parks and Historic Sites is continually looking for opportunities to welcome volunteers to the parks to assist with service projects.  Various businesses throughout Georgia have taken their stewardship roles to heart and have partnered with Friends to make a difference at our state parks and historic sites. By encouraging their employees to be part of the solution, businesses are making an impact like never before. One such company is ADCom Solutions, a data communications firm located in Norcross.
Recently, Amicalola Falls was honored to be the recipient of two companies' volunteer initiatives. Friends and staff welcomed 13 ADCom Solutions employee volunteers to the park to help give the campground bathhouse a new coat of paint. Collectively, the group donated 54 hours of their time and had a great time working together, even enjoying a special visit from the park's Birds of Pray as a "thank you."  Last year, ADCom painted Shelter 2. Friends and park staff are grateful for their continued efforts.
Another local company who desires to "give back" to the community with the spirit of stewardship is The North Face of Dawsonville.  One Sunday brought the first group from The North Face to re-blaze the creek, spring, Mountain Laurel Loop, and West Ridge Trails while gathering trash.  Having completed their task, the group felt compelled to continue their clean-up effort on the East Ridge Trail as well.
In April, despite the rainy weather, The North Face brought 13 more volunteers to Amicalola Falls.  This group included the store manager, the regional manager, and the assistant manager who coordinated all of the volunteers.  This group cleared rocks and logs from the mowing areas and once again grabbed garbage bags and cleaned the trails. 
The North Face contributed 168 hours of service back to their community.  The Friends of Amicalola Falls wants to thank these two exemplary companies for their service and for setting an example for other businesses to follow.
If you are interested in a corporate volunteer workday at our Georgia state parks in partnership with Friends, please call our office at 770-383-8900 to learn more about our package opportunities.  We will work with your company to customize a volunteer plan that appeals to you!  Thank you for your support.