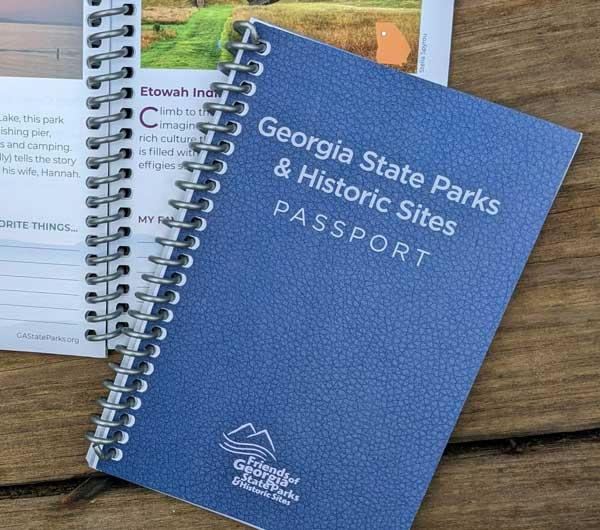 What is it?
The Georgia State Parks Passport is a keepsake to help you document your journey through all of the Georgia's breathtaking parks and historic sites. It includes photos and descriptions of the park system from the mountains to the sea.
It also includes a series of mini-adventures to inpsire your travels such as Fall Foliage, an adventure featuring the top spots for "leaf peeping" and Waterfall Way which takes you to some of Georgia's most sceinc waterfalls.
Where can I get it?
At a state park or historic site!
The gift shops at Georgia State Parks & Historic Sites covered in the passport all have the passports on sale. Just stop in and pick one up! Don't forget to grab your sticker for visiting while you're there!
At your local REI store.
All five REI stores in Georgia have the passports available for purchase. To find the store closest to you, visit their website.
On our website when you make a donation.
The funds generated by the passport are used directly for park improvements and enhancements. Your donation helps make our work possible. To donate today, and get your passport as our thank you gift to you, just click here.
---
Register your Passport
Already have your passport? By registering it, you'll have access to fun challenges, special events, discounts and passport rewards like sticker challenges!
We will not sell or distribute your information and we promise not to send tons of email. We hate SPAM too! As a registered passport holder, you can expect only two to three emails per month and you can unsubscribe at any time.
Join the adventures today!
---



Sticker Challenges

In addition to all the fantastic adventures in your passport, Friends will occasionally offer Sticker Challenges. Below is a list of the current and past challenges. Complete the challenge, upload your picture and we will send you your sticker!

Please note: You must register your passport to participate in sticker challenges.
Fathers Day 2023
This summer we want to honor all the dads out there with a Father's Day challenge. For many of us, the father-like figures in our lives were the first to introduce us to the outdoors and all the recreational activities that we enjoy most today. So let's honor them with a summer challenge!
Visit two of the four following parsk and take a selfie of you and your passport at a trailhead ( the the trail sign included) or at the park entrance or camping in the campgrounds. FD Roosevelt, General Coffee, Fort McAllister and George L. Smith State Parks. Submit your pictures online before August 31, 2023 to win this challenge!
Challenge Complete
Winter 2022
Georgia's state parks take on entirely different personalities in the winter. With most trees bare, new vistas open up, hiking trails offer new views, and the crunch of the leaves on the ground bring new sounds to the park.
Visit three different parks this winter and take a selfie of you and your passport at a trailhead (with the trail sign included) or the park entrance. Submit your pictures online before March 31, 2022 to win this challenge!
Challenge Complete
Mothers Day 2022
This month, we celebrate mom and all she does! Mom's are so important and, for many, helped introduce us to the outdoors as children. Give something back to her this month by treating her to a day in the park. If your mom is no longer with us, you can still participate. Make a day in the park in her honor.
Visit a park in honor of that special mom in your family before May 31 and grab a family picture doing something mom would enjoy or trying a new activity. If your mom can't be with you, snap a picture of a favorite scene or flower to honor her. Submit your pictures online before June 15, 2022 to win this challenge!
Challenge Complete