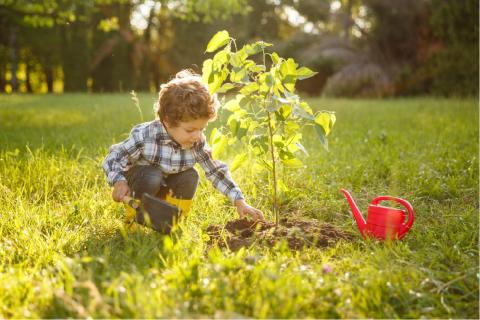 Earth Day is a time to celebrate and appreciate our beautiful planet. From the mountains to the coast, our magnificent state offers so many extraordinary treasures to enjoy.  This year we want to challenge you to " put a little park in your life." Create your favorite Georgia's state park gems in your backyard. Grab your gloves or uncover history, challenge yourself to observe Earth Day in a whole new way. 
"Put a little park in your life" with some of the following ideas:
Turn your backyard into a certified wildlife habitat by following the checklist from https://www.nwf.org/certify. This project is fun and easy for everyone to enjoy. Use #friendsearthdaychallenge  to share your hard work and for a chance to be featured on our website and social media pages.
History buffs, explore history right in your backyard. Learn more details about the living history of your community or home. Connect and research with your county records to uncover all the intrinsic information waiting to explore. 
Plant a native flower, bush or tree, incorporate some of Georgia's state parks beauty right in your backyard. Some flowers found at your state park include Canada Violet, Trout Lily, Wild Azalea, Foamflower, Trillium, Indian Pink and Buckeye. 
Engage your family and friends to participate in the Earth Day Challenge with Friends. Find other Georgia's state parks Earth Day events by visiting http://explore.gastateparks.org/HolidayEvents.