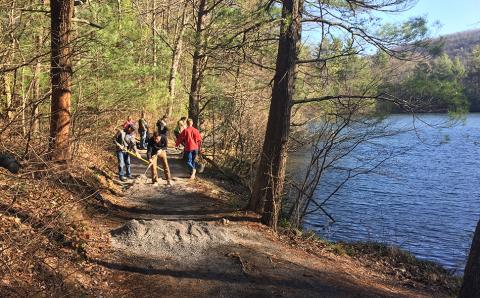 Recently, Friends partnered with Mohawk Industries and EarthShare of Georgia at Fort Mountain State Park in celebration of Earth Day and a joint desire to conserve and project Georgia's treasured resources.  Manager Brad Ballard led about 25 Friends volunteers and Mohawk employees in spreading gravel and removing hazardous roots and debris along Fort Mountain State Park's most popular trail: Lakeside Trail. 
Volunteers of all ages worked side by side to make the Lakeside Trail more accessible for all guests to enjoy the beauty that Fort Mountain State Park has to offer. A mix of fine gravel and dirt was spread along the trail, preventing overgrowth and smoothing the path. Unfortunately, many of the roots along the path were becoming hazards to frequent joggers but thanks to the volunteers, the path is now a smooth, safe and beautiful area for jogging strollers, runners and hikers. 
After the trail work, everyone headed over to the miniature golf area and spruced up the course as well. In just a few short hours, these volunteers took an already beautiful park and made some remarkable enhancements for all guests to enjoy. 
Special thanks to the Mohawk team for their efforts!