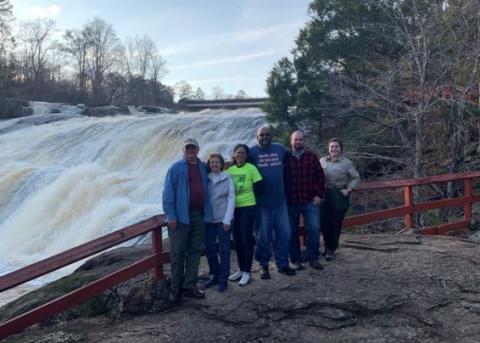 When it comes to the preservation and support of their park, this group of volunteers is the only ones qualified for the job. Friends of High Falls volunteers have one mission – to make your experience at High Falls State Park so great it will be the first on your list of "where to go" for future vacations or weekend outing. The fearless leaders of Friends of High Falls consist of, Chairperson Lee Williams, Vice Chair Bratson Matson, Secretary Erica Cameron, and Ms. Evellyn Chappell as the Treasurer.
These four people lead a crew of ambitious volunteers to put in over 1500 volunteer hours every year. Those hours include cleaning out under the boat docks. They also include hosting and sponsoring events in the park such as Christmas At The Park, the Glow In The Dark Egg Hunt, and the Annual Trunk or Treat.
They have also managed to cover the costs of over $6500 a year in events, projects and new amenities for the park, such as this firepit.
This group of volunteers is a wonderful, active, supportive group and they would love to have you join their team. If you would like to learn more about Friends of High Falls State Park, they hold their monthly chapter meeting the second Tuesday of each month at the park. You may also email highfalls@friendsofgastateparks.org for more information on those meeting or to learn about volunteering.